(December 16, 2009 - Update)
(December 4, 2009)
Day 1, Port of Miami
This Royal Caribbean cruise set sail from Port of Miami, above, just as the sun was setting giving the beautiful orange skies behind the skyline. What a nice setting. We arrived for our cruise very early, which seems to be our tendency on such things. Royal Caribbean, unlike past cruises did not have a policy of making everyone wait to check in on board but at noon was ready to start accepting passengers on board and we could go to our rooms with our luggage right away. What a pleasant surprise. Until now, the standard on other cruises was to sit in a hard chair until approximately 3 hours before the cruise time, then line up with 100's of people to go through their staff and customs before boarding. Usually, upon boarding, our cabin would not be ready and we would be given a time we could get into the cabin with our carry on luggage. The seamless boarding made this my most pleasant cruise day 1 so far. So arriving at noon, we were allowed to wheel all of our luggage on board with us. We did not have to pass it to security and have it delivered later. We wheeled it straight to our assigned cabin, and we were up enjoying lunch in the buffet on the top deck by 12:30pm. The other standard on the Royal Caribbean Cruise, that was not standard on NCL or Carnival is the pool and hot tubs were open. These, on my past cruises, have been empty until we were out at sea. All guests were welcome to listen to the live band, eat at the buffet, enjoy the pool the hot tub and attend some shopping news seminars in the theatre, all arranged on Day 1, prior to leaving the port. Day 1 ran very much like any day at sea on a typical cruise and by 1pm, Robin and I were enjoying the sights of the port and I felt my holiday had already began.
Day 2, Coco Cay
Saturday morning, bright and early, we pulled into the Royal Caribbean owned Bahamas Island of Coco Cay.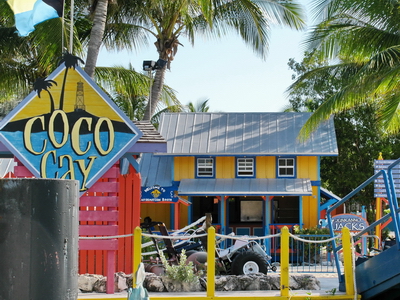 I had heard many complaints about Cruise Ship owned Islands. Most complaints relating to the money for shore excursions and the Island being a way to grab more money for themselves. Well, this may in some way be true, but I found the experience very enjoyable. The cruise line had many different styled beaches and rest areas for us. There was a sunny beach with tents set up, a beach with chairs laying under coconut trees (Robin made sure I knew they were directly over my head), another with a large, free children's water park (floating trampoline's, teeter totters, etc), for use during monitored time slots, and shady picnic areas with hammocks or picnic tables to loll around on. Robin and I chose to hang out under the Coconut Palms and I actually managed to get Robin to lay out and relax on the beach for a couple hours (below).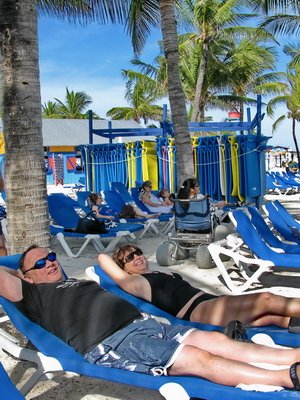 As far as a money grab goes...Not a soul approached me to buy a shore excursion, drink or spend any extra money on shore. There was a very small vendor section where a hat, t-shirt or sunscreen could be purchased from what appeared to be Bahamian vendors, not cruise ship employees, and lunch and non alcoholic drinks were supplied free of charge (a nice BBQ), by the Cruise line so we did not have to return to ship for food until dinner. We did a swim in the beautiful Caribbean waters and then a nice walk of the Island.
My favourite part of the island was Iguana Lagoon. These creatures were very tame and 100's wandered over this area of the island. The many colours based on their camouflage to their current environment was just incredible and the one large iguana picture shown here, in the exact hues of the lagoon, even to where the sun shines off the iguana's back was stunning to me. The iguana's posed, stopped to be fed fruits and had no fear of coming up to people to accept the fruit being offered. You can click the row of thumbnails below here to get the larger versions of the iguanas if you don't want to go view all the cruise pictures in the Photo Album.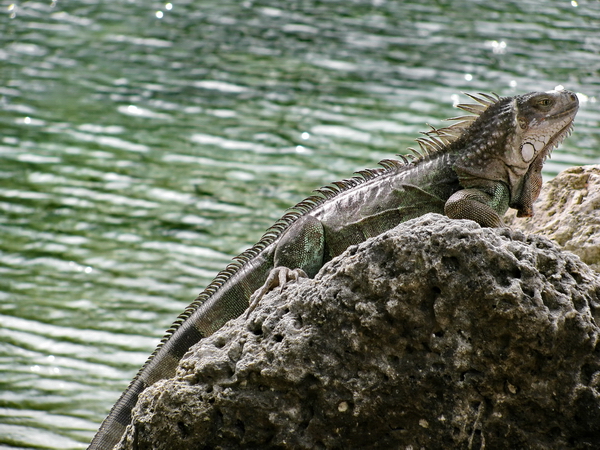 Above photos and a couple below are availble for sale on I-Stock. Click for sale link.
Day 3, Nassau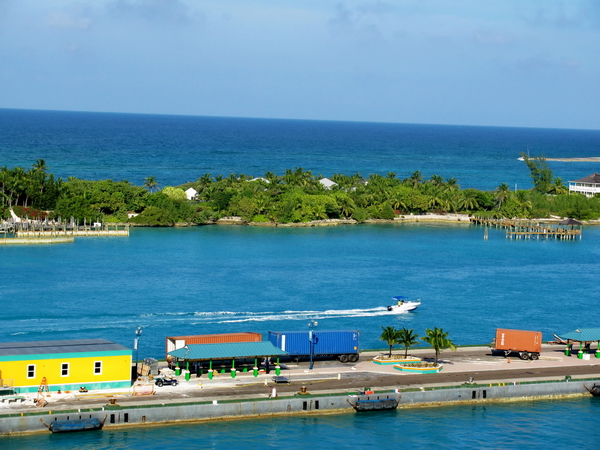 Well on Sunday morning we arrive in Nassau for a day of shopping. I found a great little designer boutique off the main street where I picked up a Donna Morgan original dress at Cole's of Nassau on Parliament St. along with matching shoes at 70% off. It was a wonderful store and definitely worth a look if you are interested in high end, true designer clothes. I could probably find similar pricing on line at a discount but it was a great buy off of the many clearance racks in the store. Other then this store I did all the usual cruise ship stores, picked up all my free (not really free, I purchased a coupon book on the cruise ship) items, and just did a couple hours of walking and seeing the buildings and sights when we first arrived. We arrived at 8am and went on shore, though the stores do not open until 10am.
Nassau is a real mix of architecture and past history. The churches had a spanish flair, the parliament buildings have a british flair though they are in bright pinks, and homes were very english sea side looking, with varying bright colours. The spanish influence from Christopher Columbus is apparent but the huge british influence is the most apparent. There is a British styled government and they even use Bobbies for Police. The tropical plants and and fauna are beautiful, adding real flair to a typical english garden. This huge fist size snail was found on a vine growing on a tree in one such tropical garden. This is a tourist destination and you will find all the tourist traps. There is Atlantis built across the Bay, Horse and buggy rides with horses in Nassau sun hats, the straw market and all the trappings. Spend wisely, buy what you like and have a nice time enjoying the tropical scents and air and all will go well. We headed back to the boat early to soak up the sun by the pool and awaited the departure around 5pm when we waved good bye to the Hog Island Light house at the outer corner of the Pleasant Island (formerly Hog Is.), Port of Nassau.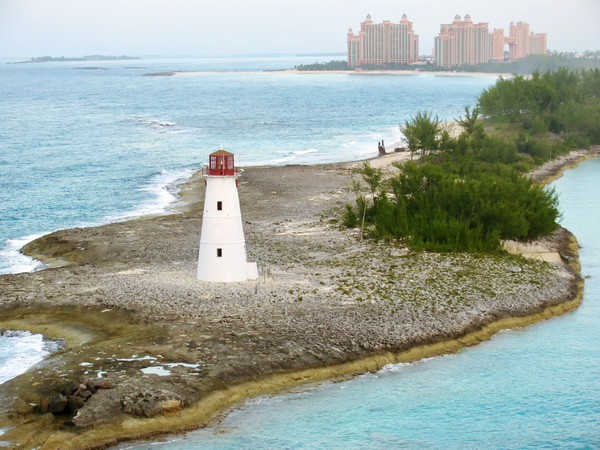 (November 18, 2009 - Update)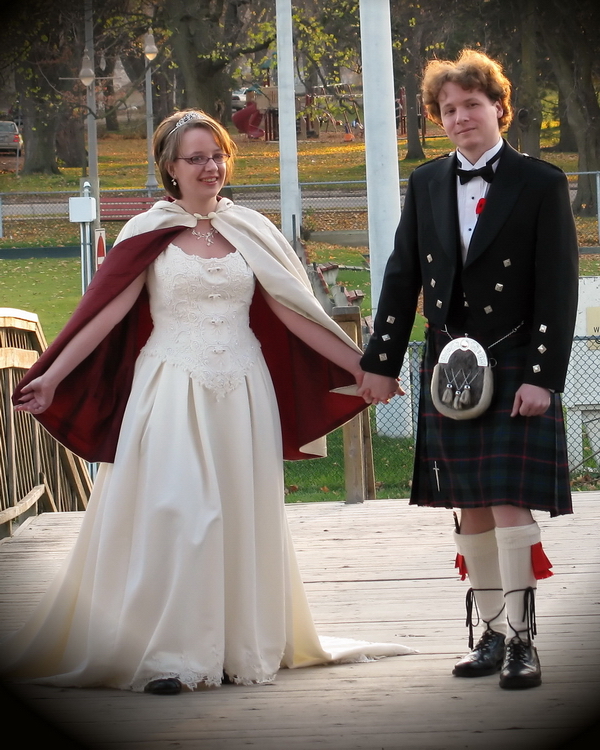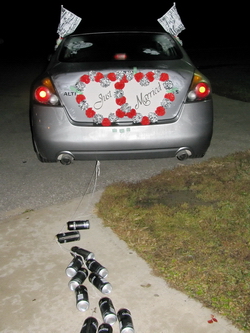 (November 7, 2009)
What to write about....Jenny is as sweet a girl as one could hope their son would find to marry. She set the date and arranged for a small inexpensive wedding a year ago. She organized it all, kept the costs to a bare minimum as Len was still in school and she was already caring for Lerato (our darling grandson), and made sure it all came together. She found a hall to marry and have the reception in and she got a priest to come out and sanctify the hall so she could be married with the blessings of the Catholic Church. I think she's a wonderful girl and wish them their happy ever after.
Their life will now be off on a new journey. With school complete, Len graduated with 97% average from his Network Security and IT Specialist program the day after his wedding, and Jenny holds a University Diploma also from her graduation about a year ago, they are all set to start life. They have a bit of a head start as they had Lerato while all this went on and Len has Alida from a previous relationship, and all the trials that come with a past. I believe these two are ready to take it on and conquer. Alida's mother did not allow her to attend the wedding, but they did put her flowers and dress on a chair beside the alter and hope the courts or Alida's mom will settle this some time soon. They look forward to when they can have family time with all.
On a brighter note, Len started his first job, in his field, the week before his wedding! He is now the Director of IT for a relatively new and growing company. He has all the enthusiasm needed to help the company achieve is growth and goals and be part of making it something great. He and Jenny will be moving to Midland, ON, where the job is located and Leonard's daughter is located. Now on with the Wedding pictures! You can find all the Wedding Pictures on the Photo Page here. I did post the album already.
Well the wedding was reasonably calm considering the chaos of a wedding day. We were to all meet for the rehearsal at 3pm. Yes...the rehearsal was on the wedding day as the groom had started his new job this week (200 miles away), and had not managed to make it down before 9pm the day before when rehearsal was originally scheduled. First job and all, he could not get away and didn't want to leave them in a lurch when a computer repair did not go as planned on the Friday. He will learn about that, lol. His dad does service and rarely can you count on a job going as planned. Work and Len thought he'd be done by noon, but noon came at 6pm. Then he picked up his wedding kilt in Barrie and made it home for some ungodly time (10 or 11pm) the eve of his wedding. Taking us to awaiting the arrival at 3pm for rehearsal on Saturday, and pre wedding pictures in wedding attire with the photographer at 3:45.
Robin and I did pick up's through the day of Shawn and Liz (his wedding date), and had to be at the rehearsal for 3pm. I tried in vain to find somewhere to do my hair but it wasn't happening and we showed up by 3 at the hall. At 3:30pm, Jenny arrives,
hiding here behind the car hatch back. She's 30 minutes late for rehearsal, OH NOO, and the wedding photographer will be waiting to meet her in 15 minutes. She's already missed the photographer once earlier this week so she decides rehearsal can wait and they'll go to meet the photographer around the corner as planned. One glitch, the groom isn't here with the groom men yet! A couple texts to the groom from his brother show he was lost in Kitchener as no one could pick up the DJ (his friend), and he had to go over and get him. He did not realize his friend had moved and first went to the wrong place and then made it where he needed and was close by, would be here soon; hopefully making it in time to meet up with Jenny and the photographer. He almost makes it in time for the photos. I rushed off with him to the actual park where they had started photos when he arrives a few minutes after Jenny had left to meet the photographer. We make it...
as seen here and wedding pictures become a reality. The photographer will have the digital pictures to the kids on November 21. I can't wait to see them. For now I just have mine.
My favourite picture I took was, by far, the one I placed on the front cover. I will definitely be making a large framed photo of that one for my room. The rest of the wedding really went off with out a hitch. The photos were done rather late. The guests were to be at the hall for 5:30pm and it was after that when the bride and groom returned from the pictures to do their rehearsal. They rehearsed in the bathroom (giggles) and then did it live.
I have photos of everything from the arrival, the park, and the reception after the wedding with all the different guests in the photo album on the photos page. You can view the whole collection there. Just find the Wedding Album and click it. I also have an album up from Len and Shawn's graduation, the day after the wedding. In the end, it all worked out, of course. The ceremony went on, though late, and the priest announces them married and they kiss.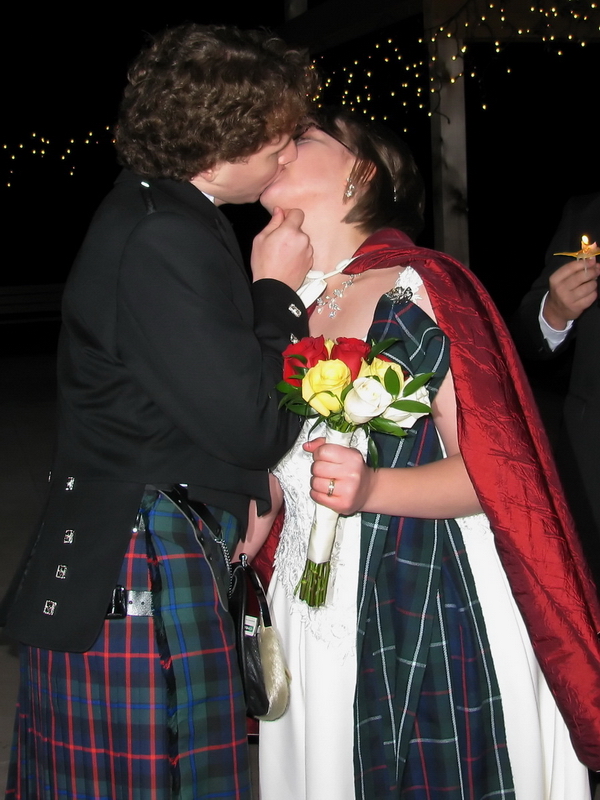 (September 21, 2009)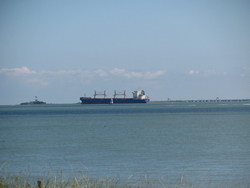 (Sept. 4th to 17th, 2009)
Well Norfolk is surreal. I have been to Norfolk several times with Robin for his work and never get over how much there is to see in the area. I could take photos of the Norfolk area and history and never run out of material. Norfolk is about the ports, it's about the navy, it's about Virginia Beach, it's about history. Here is a picture of the bay where the Monitor and Merrimac fought, taken while driving across the Monitor Merimac Bridge Tunnel on the way to Newport News one day. The area must have a HUGE budget for road construction and maintenance. There is numerous large bridges and tunnels to maintain in the three city areas joining them to each other and the other side of the Chesapeake Bay. The largest of the tunnels is the Chesapeake Bay Bridge Tunnel, at 23 miles long joining the Eastern Shore to the Hampton Roads side, and saving a drive around the bay or ferry ride to get there.
As you'd expect from a busy water front community, every time I'm here there's a festival of some kind going on. The first weekend it was the Afro Art Festival. With lots of Black American Art and food to try out set up along the Norfolk Water front.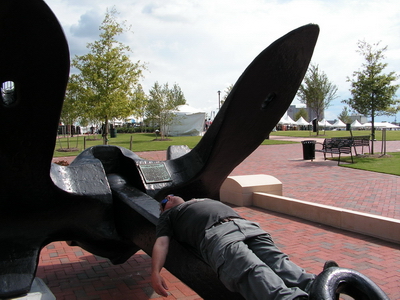 You can see the tents setting up behind Robin in the park. There is lots of history and waterfront walk ways, along with boats to take out on tours and for dinners in the Norfolk and Portsmouth waterfront area. I highly recommend time to walk around both downtowns and water fronts.
A walk along the waterfront walk way in Norfolk reveals the Nauticus, Naval Museum, top secret ships under wraps, not so secret ships you can tour, beautiful flowers and plants along the walk ways and lots of Norfolk's finest, out to keep the peace on this busy long weekend. They were directing traffic, giving friendly advice to tourists, and just giving a smile to a picture taker. They all made me promise they wouldn't land on you tube. I promised I would only place them on my own site!
Favorite Restaurants in Virginia Beach
Well since we usually meet several of Robin's co-workers out here, we do allot of eating.
They don't get away from the office every week like Robin, so they look for the finest. Meet Mike, Bill and Paul, at their favorite restaurant. This is Catch 31, in Virginia Beach. Right on the beach, you can sit out back and watch the cyclists and walkers go past. This is why I gain weight when I go along with Robin to Norfolk. This time I behaved and didn't over eat, but Mike shared his cake size piece of cheese cake one evening.
The food here is some of the best food I've eaten anywhere. I've had both seafood and the pork and steak entree's. All are excellent. The waitor on this trip was new (we hope), and didn't seem to know how to refill glasses, bring dessert menus etc, but I'm sure he'll catch on or be gone. The food made up for it. It was excellent as usual.
Other notable places on the Beach.... I love Ma hi Mah's. Lively bar atmosphere and great food. There's one more place to avoid on the beach. Down the far end of the beach, water front, where the road goes no further, is a place that's been open since the 60's. It's owners are surfers that run this on the side. I don't recall the name, but I was charged the typical $30.00 per person for instant mashed potatoes, frozen vegetables and a poor quality steak that wasn't quite cooked right. They should stick to surfing. There's lots more pictures of the beach, click the right album on the photos page.
Chesapeake Eats
In the Chesapeake area, near where we stay, there is several choices. There is always our small hotel restaurant, at the Hilton Garden Inn if we just want to stay in, nothing spectacular but easy. The Buffalo Wings is a favorite for a night out with the guys. They can watch sports on the big screen and order every kind of wing imaginable.
Then there is the Kyoto Japanese Steak House. This is superb and very reasonable if you go for lunch. It's twice the price in the evening, but twice the food. The Steak house does everything on a Hibachi as you watch and the waitors give quite the show. This time around the guys found a great spot for a sandwich or quick, well cooked inexpensive breakfast at POP's Diner. There is all the regular fare here on Greenbriar also. There's an Olive Garden (always good), Cracker Barrel (ho hum), and a nice Mexican restaurant just off the high way, worth a stop at. It's been a couple years since I stayed downtown Norfolk, and other then dinner in a Church in Norfolk, which was okay, and an interesting place to go, I won't comment on the Norfolk restaurants, as I could be out of date with my info on them.
It was a very rough job for the guys and you could see the stress in the evenings, but it's done now and they won't have to be going back as a design team. Good job, they did meet their goals and complete it.
Atlantic City, Labor Day Weekend Fun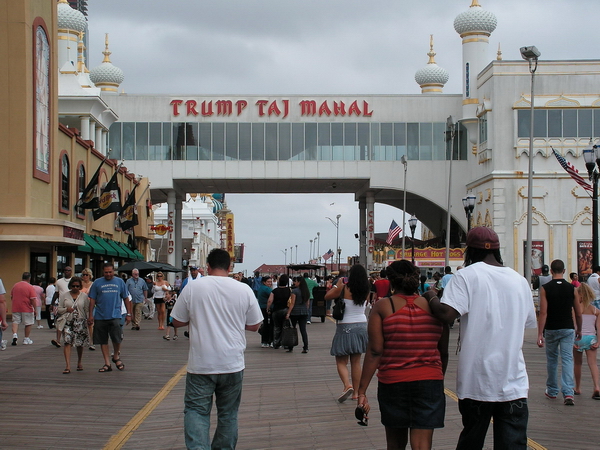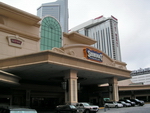 (Sept. 6th to 8th, 2009)
I know I've covered Atlantic City before, but it's time I covered the what to do, what to eat and where to go if you don't gamble. I mentioned back in April that Robin would have another week to spend in the Norfolk/Chesapeake area in August. You've all learned by now that his work is unpredictable and they called to ask him to head up on September 4th, 2009 to Norfolk a little ahead of the job engineers to help get things at the plant ready for them and see how they were coming along. This worked out about perfect as he had to an offer to head to Atlantic City for the 6th and 7th of September on Labor Day Weekend and stay at the Show Boat. I always love the shows, people and beaches in Atlantic City, so, even though I don't like gambling, I'm happy to go along. The weather was warm, no rain, and partly sunny at times. Not quite beach weather, but not cold and nothing too bad. The Show Boat was the one of the finest casino's I've stayed at in Atlantic City for service and amenities. The staff were wonderful. So Robin worked Friday and Saturday (morning only on Saturday) and we did the 5.5 hour drive (including ferry 1.5 hour ferry time), to Atlantic City for two nights.
Five and a half hours may seem a long drive, but when it's scenic and includes an hour and a half on the Lewes to Cape May Ferry, it's not long, it's a wonderful day. We reserved a spot on the Ferry; good thing, as it was filled and if you did not make it on time for you reservation you could wait 2 to 3 ferries before getting a spot on one. We arrived at Lewes in time for lunch, just getting there as the Ferry before our reservation was departing. We had lunch outside at the Terminal's Bar where we could check out the sightseeing Tall Ship at the dock. The young lady from the boat was repairing a sail, how interesting. The drink was good, an icy raspberry daiquiri type drink, but called something else. Lunch was the normal bar fare, but fine enough with all the scenery to enjoy. The Port had live entertainment for us while we waited; it was really a pleasant spot to be.
The Ferry ride was scenic and relaxing, as expected. The light house here is one of two on the way out of port to the crossing.
People were out having fun at the Delaware State Park Beaches on the long weekend. There was sail boats and parasailers and great weather for the crossing. A group of motor cycle enthusiasts had boarded with us and we chatted to them about where they were from and where they ride to in the area. As we were nearing Cape May you could see the Cape May Lighthouse in the hazy distance. It's really a wonderful trip and everyone should make it if they are in the area. Even a day trip if you are holidaying in AC for a ferry ride is a great way to spend a day. Visit the Cape May lighthouse, take the ferry, get lunch or lounge on a beach in Delaware and come back. It's just under an hour's drive to the Ferry Dock from Atlantic City.
Where to sleep, eat and stay.
Once landing at Cape May it is a quick jaunt up to Atlantic City. We arrived in lots of time for an early dinner, with lots of daylight left. The picture below is as we crossed the final bridge, just before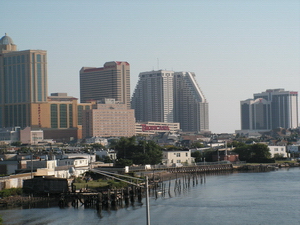 entering Atlantic City.We got to Show Boat with the GPS, and checked in. We took a little nap before heading out for dinner. As we headed downstairs, we learned what Show Boat was about. They are the Mardi Gras theme Casino and they have 4 parades and shows a day. Walking down the stairs we ran right into their awesome mardi gras show. There was dancers and acrobats and costumes. It was lively and fun and put us in the right mood for dinner. Lot more pictures are in the 2009-09 Labour Day, AC and Norfolk, Photo Gallery on the photo's page.
Definitely put Show Boat near the top of your list if you're heading to Atlantic City. It's on the Board walk and has some of the finest restaurants to be found, along with the friendliest customer service I've had at the many casino's we have stayed at here. Dinner on Saturday night, our arrival night, was comped to us upon leaving, as was all other meals we charged to our room. The staff had asked us on check in to be sure to charge to our room as our meals would be comped if we spent enough. We had the buffet this night, which had whole lobster on it. The buffet food was not the finest I have ever had but the friendly staff made up for any lacking in the food and it was certainly hot and more then edible, just not quite as gourmet as some.
We didn't make it to our favorite restaurant, though we still highly recommend, The Atlantic City Bar and Grill. That is where you go if you want a good lobster dinner. Don't mind the bar noise and music. The lobster is tender, fresh and sweet. You'll love it. It's back a block from the boardwalk and draws quite a few locals. While here, also...Don't miss "The Royal Noodle House" in Show Boat. Great fresh food, cooked as you sit. This is a very small restaurant, off the high rollers room with limited seating. It's worth finding and lining up. Pick your favorite rice, meat and veggie dish and enjoy. Watch out, servings are LARGE size, you might want to share. The Bally's offers specials for $7.77, of course, on their 6th floor restaurant. This is really only on the second floor, above the casino, but if you were counting floors by 10 foot increments, I think it would be up 6 floors. If you are looking for a cheap breakfast, there's some fine places along the board walk to get bacon and eggs and a seat, or there's always Dunkin Donuts. Harrah's Casino Marina has the nicest buffet in my experience.
Other sights to see near by if you are holidaying here, is the Steel Pier for rides and we were entertained by the Nocks family here on motor bikes in a steel ball. . Also, if you are Indian (arab), the Taj Mah Hal must have something for you. Robin and I both noted that the Indian restaurant here was literally filled with those of Indian descent and they also seem to choose this hotel to stay at. Trump must have done and excellent job and making it authentic and therefore, making it feel like home for our western immigrants. Heading to New York for a day from here (by train is always nice), is not a big trip if you want something different and have the time. Be sure to check what shows are on at the Casino's before leaving home. There is always big names playing. Next week Alice Cooper has a show at Show Boat. My husband would love to be at that one. Be sure to check it out, there's something for every taste.
Most of all, have fun. Atlantic City really has it all. Enjoy the food, smells, tastes and sights, and you'll be sure to go back again and again.
(July 28, 2009)
It had been years since we'd seen Grant and Donna; 8 years to be precise, as Shelby was 2 when I last saw her. What a sweet young lady she's grown in to. We tried to visit them a few times when we've been up to Canada but they were never home and when we popped by Grant's shop it was always a weekend or after hours and we missed him. We would leave a card and call. So, though we've spoken on the phone a couple times we never actually managed to meet up and get together. Last month when we were up delivering Len's new car to him, we again tried the house and found they had moved (4 years ago it seems). We looked them up on Facebook, found Donna, and started chatting more regularly. Turned out they were heading to Washington, DC for holiday and we decided to take the 6 hour drive and meet up with them for a day of sight seeing. A kind traveler took the photo of all of us in front of the white house.
Grant and Donna are not just any old friends, they are, as I mentioned on main update, but old friends that already take up space in our photo album from past trips boating together, dinners at our house, and generally really close old friends that we don't get to keep in contact with anymore. I had to dig up a few old photos (because it's my web site and I can do that), of earlier memories like this one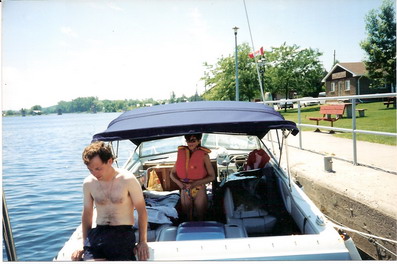 from a trip we all took in 1996 up the Trent Severn Waterway in Ontario, pre Shelby and pre digital cameras. Of course there is Donna in her shorts and and Donna close up here too. I'm sure my dad had the camera, he's such a sucker for a pretty lady.
Well, we were always fascinated at how similar our likes and tastes were compared to Grant and Donna. Strange as it is, even in our 8 years apart our tastes and likes have crossed paths way too many times. Grant and Donna now ride motor bikes and gave up the boat after Shelby was 2 as Donna was worried having a young child on board to chase. Donna rides her own motor bike but prefers to be a passenger, I just won't go learn to ride so I get to stay a passenger. They have traveled extensively with Shelby to many of the places here in my news. They were out to the Grand Canyon, a couple of Caribbean Cruises, and were even in Myrtle Beach this year on the March Break while we were there, staying about 2 blocks from us. It would have been quite the reunion if we'd ran into them there.
DAY 1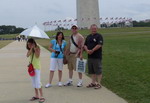 Well in between catching up on old times and the past 8 years we did get plenty of sight seeing done. We definitely have to return and see more. Between the Cathedrals we saw on our double decker bus tour and all the parts of the Space Museum we didn't have time to enjoy, we need a week for Washington. Shelby's must see's on the first day was the White House and the Lincoln Memorial. She also has a request for a bobble head Lincoln that we will have to try to fill before we head north again. When stepping out of the Lincoln Memorial we happened on a terrific show from an Air Force Drill Team, check out their videos. Don't miss these clips also, Clip #2 and Clip #3 imagine being the volunteer while your team mates learn that maneuver.
We had walked down from the Georgetown Area where we were staying, passing the Washington Monument , World War II Memorial, and the Korean Wall. We lucked out on a few sightings over the day. The road to go view the White House was opened just as we were passing it. We were given 30 minutes to get pictures and the area was police monitored. We snapped shots of the White House Beehive and Michelle Obama's organic vegetable garden. I was think must be difficult to keep up the normal life here. Then when heading around to the front for more pictures the roadway was barricaded by police while the Secret Service escorted someone out of the White House. We suspect it was Michelle and the girls as Obama was in Virginia addressing a grocery store on why they want Government run health care. We completed the White House, the Lincoln Memorial and most of the Washington Mall by foot before the end of the first day.
DAY 2
Arlington Cemetery

Day 2 was about getting a tour bus for our tired legs and making sure that Shelby got to the Space Museum or Spy museum, both on her list of must do's. The tour bus first stop was Arlington National Cemetery. We decided to get off the bus here (you could jump on off anywhere on route), and check it out. We saw the graves of John F Kennedy, Jacqueline Bouvier Kennedy Onassis(where an eternal flame burns), the tomb of the unknown soldier along with the changing of the guard (no pics of the guard change to respect the quiet), and the Amphitheater shown above. We left here to head down to the museum area, so we could see the row of Smithsonian Museums and visit the Space museum.
Smithsonian National Air and Space Museum
The space museum deserved seriously more time then Robin and I had. First thing we saw on arrival was one of the 12 Lunar Modules
built to be used by Apollo for the moon landing. This one was never used as a previous model had successfully landed. This looks like a science project. I can't believe those three astronauts climbed into one of these to land on the moon.

This one of many interesting things we discovered at the Space Museum. So glad Shelby took us here. They also house the Russian space artifacts here at the Smithsonian Museum. Apparently when the wall fell these artifacts turned up for sale at the Christies Auctions house in the UK. An anonymous donor, purchased the artifacts to be held at the Smithsonian until Russia recovered enough to build a suitable museum of their own to house them. It was felt no country should have to give up such artifacts. It is believed there is such a museum finally being built in Moscow now and the artifacts will get returned sometime this decade. We were able to see a Russian Space module also as they're held here. This Module was used, is burnt up from reentry and you can see where the astronauts signed it, which is a Russian custom upon landing. They also house Russian space suits, fight plans and various other artifacts.

Bus Tour Back to Georgetown Area

This is where Robin and I learned just how much of Washington, DC we had missed in our visit this week and once previous. The tour bus travels home via the Train Station (a sight to see on it's own), the Capital Building, past the Old Post Office, the Ford Theatre where Lincoln was shot and the house across the road where Lincoln died, and then through the harrowing streets to Georgetown. From the Upper deck of the Bus if you stood or sat too high, low slung electrical wires and tree branches would be hazardous or fatal. I'm really quite surprised the bus is allowed to travel those streets with passengers up top. If a child stood up they could easily be toppled outside of the bus or possibly beheaded. It was an accident waiting to happen. I did get to view the grand cathedral and all the embassies on Embassy Row through these streets though. I did not get any pictures of the embassies, as putting an arm up or out of the bus would have been hazardous.

As usual, you will find tons more pictures in the newly uploaded Washington photo album, on the Photos Page. I've also added the Washington photo Album from our previous trip in 2006.

(May 8 to 11th, 2009)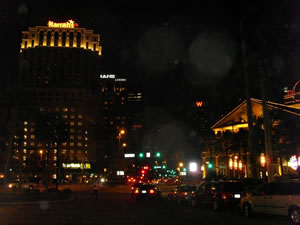 New Orleans is best explained with pictures, but I am not nearly enough of a photographer to convey the feeling that you get when you're on the streets enjoying it. A walk around New Orleans and you get a feeling for all things past and present. It's not something a photo or words can describe. It is something you'll have to go and experience. From the knowledge there is a river, just high enough above the town you can't see it from anywhere until you climb the levies or look from a third floor window or balcony, to the heavy humid scent that tells your senses that river is near by. Here I took a shot of the river from the pool side of our Hotel (3 floors up). You can see the river edge and over the top of the edge you see the tops of houses and trees from below in the town.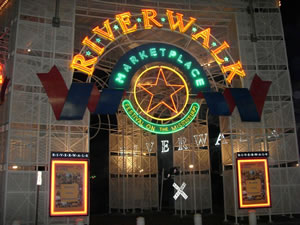 The picture above is from the night we arrived, and certainly not the best photo but it shows some of the night lights. The River walk here was just to our right as we walked out of the hotel front doors. Don't forget you can click my pictures for the full size version, it's much more impressive. In the morning we were able to head along the fanned walk way to the World Cafe where we could sit along the river board walk and enjoy an old world treat, fresh made Beignets and coffee. You can purchase the mix and enjoy your own at home, here at, Cafe du Monde. There's a couple of locations now but definitely sitting along the river on a bench just outside the cafe perfect for Robin and I.
A trip to New Orleans would be nothing without visiting the famous Bourbon St.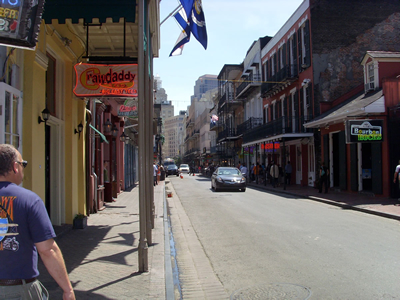 On Bourbon Street we could purchase alcoholic slushes; I enjoyed a strawberry Daiquiri as we took in the sights and sounds of Bourbon St. The bands in the open air cafes had everything from jazz, blues and modern interpretations of wash boards and spoons pouring out into every street corner you pass on Bourbon Street. The party atmosphere, even in mid day here was unreal. We stopped and just listened to a few of the bar bands while we enjoyed our walk, and we caught lunch in one of the pub style restaurants. One band in particular, wish I'd gotten their name, playing the spoons and washboards along with electric guitars had the bar packed and the street corner over flowing as people tried to get closer to hear the unusual but incredibly good sounds. The street was well watched by police and electronically monitored full time with these eye in the skies.
There is way too much to see in New Orleans for just 3 days. The churches of new Orleans, parks and green spaces, artists that sell along road sides, young entertainers tapping their way to an income, Jazz bands set up in the streets, give this city such a taste and flare of it's own I have decided I will definitely be back to spend a week for the full experience, as if that were somehow attainable in just a week.
Robin and I stopped to take a picture of some honey mooners here, with the park, church and horse drawn carriages in the background.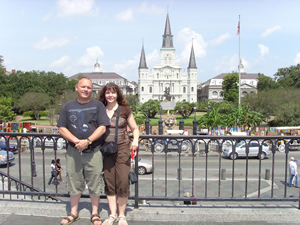 They returned the favour and we have a nice shot of the flare of the old city. I can't possibly put all we've seen in words. The foliage deserved a spot front and center also, but I just don't have the room for all the pictures in an article. There was intriguing alleys that lead to people's homes, the span bridge across the Mississippi, the river boats, a train right outside our hotel front door, oh, and the Voodoo Garden (how eerie it was picture 13), House of Blues. We tried to get in for a show but it was sold out for months at it was mothers day.It's a must to go view the full photo album of New Orleans on the Photo Page.
We visited the Oldest Grave yard in the city. Did you know they are the only place in America to build extant walls to house coffins of the dead? The old walls could be seen crumbling to the humidity and harsh weather the area is accustomed to. They also built Mausoleums that had compartments dug underneath them and as new family members died the old bones were lowered to the compartment below and the empty upper compartment used for the newest member. The graves are all above ground, possibly due to the wet ground when dug, the city is after all, below sea level.
The famous Voodoo Queen Marie Laveau is purported to have been buried here but many believe the marked grave site is Marie's daughter also named Marie. Some believe this alternate site is where Marie was buried and you see the evidence in this gifts and such left here for her. Other evidence points to her remains as having been moved to a totally different cemetery, though this is the recorded site, the mystery is not solved on this one conclusively. You can read a little on Marie Laveau in this Wiki, Marie Laveau Wiki . Regardless of where she is or isn't buried, both her marked grave and unmarked possible grave, draw visitors to this day to mark the X's, hope a wish comes true and leave gifts.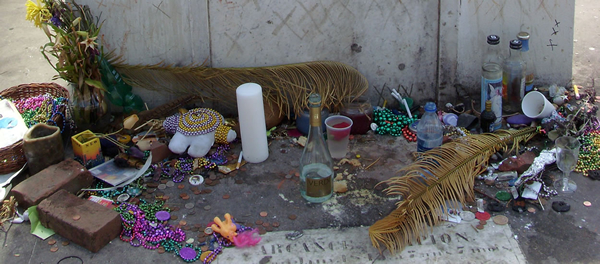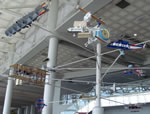 (April 3 to 5, 2009)
Well I got home last week and had a phone call from Caesar's Casino, Atlantic City. They wanted to fly myself and a guest from Charlotte, NC, to Atlantic City, NJ for the weekend. Robin and I had nothing else going on so it sounded like a good idea. I have to thank both Caesar's and my mom and dad for a great weekend. They met us in AC last October and used my casino card, between Robin and my parents, they were trying to get me to platinum status in a day so I could qualify for rooms along with Robin and meals, when they came along. Well they almost did it, but didn't quite make it. I guess it was enough cash in a day to warrant an invite for the free weekend. The mobile in the picture here (click it for HUGE size), is at the Charlotte Airport; I just love it. If they sold miniatures of it, I'd buy one. Above, is the AC pier at night.
Well we had a great weekend, in spite of the usual travel headaches. Our plane was delayed for take off by 3 hours. Fog up the east coast caused numerous delays. Then when we arrived we weren't sure where to meet up with the shuttle and as they had been delayed, they didn't wait the typical 15 minutes our directions said they would and we missed it. So we took a taxi from the Airport, wasn't too bad, and arrived while the charter group was still being checked in, so we weren't delayed too much. Robin spent the first evening gambling while I slept and recuperated from the air flight (I hate flying, as did the lady beside Robin who was compensated well for her fly time, she won $6000.00 for her trouble right before heading back to the airport on Sunday).
While out walking on the beach on Saturday, Robin and I came across a a baby seal that had washed up on the beach. The wind was terrible and waves huge, so I guess it had gotten caught in the currents and been pushed on shore. The police were already called and watching it until help arrived.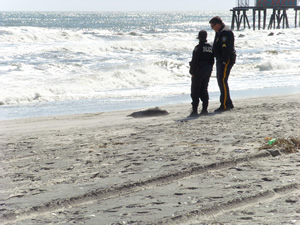 He seemed to have injured his head in the pictures, but he was moving around so I hope he was okay, he was so cute.
There was lots going on at the beach, the high winds and waves had brought out East Coast surfers. I watched a couple make it to standing on their boards but most were just floating on the waves hoping for a chance to get up. The Coast Guard was cruising around and seemed to be more playing in the waves then anything, but I'm sure they were actually working. The pier rides were open. And though everything was going, there was a distinct lack of people to enjoy it all. You can see here the lack of people on the Ferris Wheel. Overall it was pretty quiet everywhere we went.
There was signs of the building that was going on before the recession hit in half built buildings, but no rush to get it done as evidenced by the lack of weekend work being done. Actually this is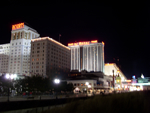 the first time I've been in Atlantic City and had the silence of no construction during the day. I took some pictures of the casino's lit up at night, Trump Towers in this one, which we know has filed chapter 11 for its third time (Trump Entertainment and Trump Towers AC), February 17, 2009. Over all, though it was quiet, this is off season. They report that earnings and visitors last month were down 25%, but there was some optimism that this month seemed a bit better, with more people coming out and some definite optimism among people who feel the worst is over. I hope they're right.
We had a great weekend, though this article has a distinctly down tone to it. For the most part, everyone we saw was enjoying their time, buying up souvenirs and enjoying the great weather for the area. We enjoyed the numerous buffets, free drinks, and good service we found at our hotel. We made the stop by the Atlantic City Bar and Grill for lobster, still a great deal at $25.00 but the past years bargain of $12.99 was gone this year and market value is the new price. Still a great cheap eats spot for some sea food and drinks, and a must go if you're heading to AC.
(March 2009)
Well, it has been a very long time since my sister took a holiday. Chuck (my brother-in-law), was down with the kids last March break but Katrina opted out and painted her house while everyone was away. This year, she decided it was time they all took a holiday together. I'm pretty sure it's her first time away in at least 5 years. It was so nice to see everyone. I'm glad they chose Myrtle Beach and were able to drive over and enjoy some time with them for a couple days. To make it extra special, it was Robin's 50th birthday; it was sure nice to have some family around to celebrate with.
Myrtle Beach always has lots to offer. Katrina found a great deal on a 3 bedroom beach front condo, with this view from the balcony. Nicest condo's I've seen out there, at the Caribbean Resort, Myrtle Beach; completely new with all stainless appliances (included dishwasher, full size fridge, microwave, stove) , LCD HD tv's in every room, internet connection, en suite bathrooms, and a pull out couch incase the relatives show up for the night like Robin and I. The view at night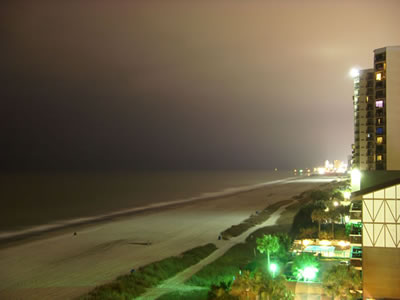 was spectacular.
We arrived on the evening of the 16th after dinner and all relaxed and chatted about plans for the next day. We decided Broadway on the Beach for shopping and fun would make a good outing for the next day while the weather was still going to be a bit cooler. 70's would come later in the week and be better for beach sitting. It was a shame the weather didn't quite cooperate. Though the skies cleared from what had been a few days of rain, the warm temperatures of just a week earlier (high 70's to low 80's), had passed and 60's to 70 was the order of the week.
It was fun to get some time to play with the nieces and Charlie (the youngest member of the family at 4 years). Sara was out shopping for a prom dress (wish I'd taken a picture) that no one else back home would have. Charlie just wanted to play like most 4 year olds. He gets some hang time at the park, slide time, and of course, time to ride the dinosaurs here. He is taking this riding stuff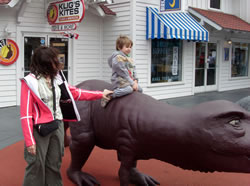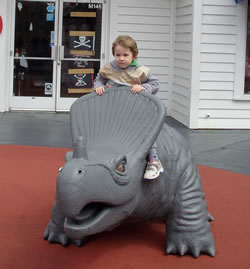 pretty seriously, it's not so easy to hang on to an unsaddled dino. I have to admit, I couldn't resist the temptation to climb on myself and of course, Robin couldn't resist the urge to snap the picture.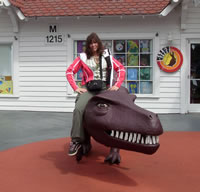 I was only testing the safety for the little one. You should always check out toys before letting the little ones jump on and find out the unknown hazards (makes sense to me).
Charlie and Ashley stop to feed the ducks on the walk way. There is lots of 25 cent fish food containers around the board walk for duck and fish food. It's always a favorite pass time.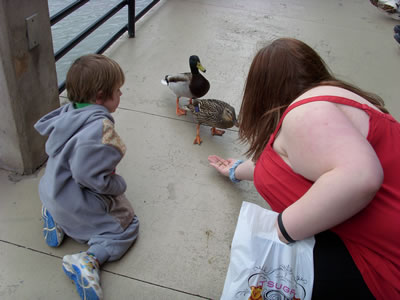 After some play time at Broadway and the Beach, Robin and I decided to get our own Hotel room at the Holiday Inn at Broadway on the Beach. We left to go check in and couldn't resist stopping in at the Rioz to see if there was any early bird specials on so we could reasonably take everyone for dinner. We love the Rioz and wanted the chance to take the nieces for dinner while they were here visiting. This would be Robin's birthday present to himself also.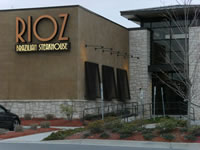 As luck would have it, while I was picking up the brochure with the prices I got chatting to the owner/manager and she arranged to give me 25% off of the evening's dinner if I wanted to make the reservation for 7. Reservation made. Seven for dinner at 6pm.
When I got back to Broadway on the Beach and caught up with the girls they were visibly nervous that I had booked a dinner time, though they were thrilled to be going. They kind of looked and said, "mom hates any planned time", but she was okay with it and we all head to dinner for 6pm.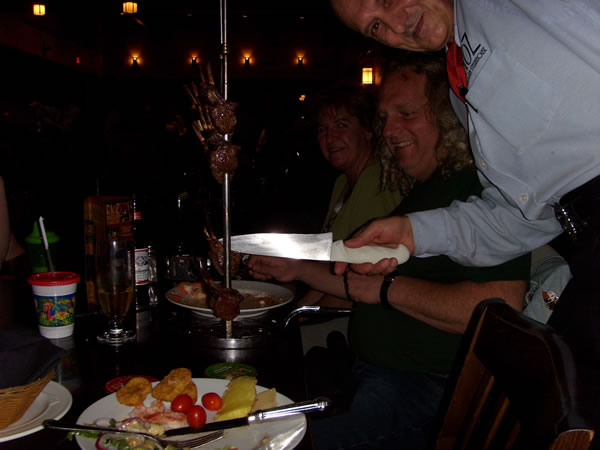 The food at the Rioz is rarely beat and you can't go away hungry. A brazilian Grill, if you have never been to one, is a constant delivery to your table of an array of different meats. Basically, it's a meat lovers dream. You have a disc with a green and red side. If you want the meat being paraded around the floor on skewers by the wait staff you just flip the green side up and they come running over to offer lamb leg, lamb chops, garlic sirloin, peppered beef, parmesan pork, bacon wrapped chicken or filet and various other endless options. Along with the meat you have to try the cinnamon grilled pineapple, grilled whole and chunks of hot cinnamon pineapple are sliced off and placed on your plate. Along with the constant delivery of meats there is a salad bar with hot soups, seafood (scallops, baked salmon, smoked salmon, shrimp, etc), sushi, bread and cheese to fulfil any desires you have. The kids filled up on the salad bar as it had all their favorites. Young charlie was given a plate of french fries and some mac and cheese to keep him happy. Something for everyone.
After all this food you think we'd be done, but nooooo. The kids are patiently awaiting dessert as Chuck informs the wait staff that it's Robin birthday. They deliver a wonderful piece of chocolate birthday cake to Robin, while they bring the dessert cart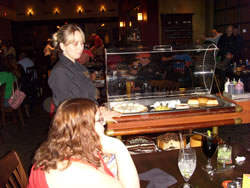 around to the other side for the rest of us to pick out a dessert. Key lime pie was the order of the evening. Well, accept for Charlie, he is the little head you see helping out Robin on the birthday cake here. Good thing he helped out Robin, since Robin was really too full by now to possibly finish it. We all actually shared a slice of key lime pie (I halved one with Sara, Katrina with Chuck and so on) as eating a full piece would have been impossible in spite of how good it was.
Robin really hates the sing and bring out the cake thing that restaurant's do, so I was particularly pleased when Chuck let the wait staff know and had them bring out the cake. Turning 50 should be remembered.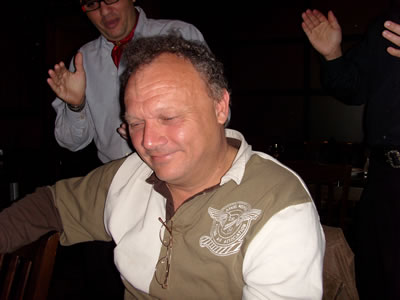 I was so intent on getting the look on Robin's face, I missed the cake and candle, but it's the look that mattered. I think he enjoyed it.
After dinner we headed over to Chuck and Katrina's condo to do a walk along the beach and let some of the food settle. I didn't have my tripod, making a night shot difficult, but along the beach there was 100's of seagulls that seemed to be congregating where the moonlight shone. You could see the foot prints everywhere they had been. It was obvious to us they had been moving along the beach as the evening wore on and it was Sara who came up with the idea they were following the moon light. I did my best to hold my hand steady for 10 seconds of shutter to get the picture. Chuck and Sara are ahead here about to walk into the congregation of seagulls. T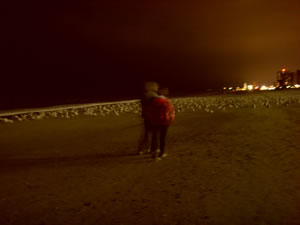 hey are just everywhere, they sit on the ocean waves bobbing and sand almost obscuring the view of the water. It was an interesting sight.
We walked a couple miles down the beach to the arcade. We all raced each other on the joined race car game a few times. Sara and I beat the guys, each coming in 1st and 2nd opposite times. I guess they shouldn't have been trying so hard to win and playing bumper cars with my car and they might have gotten first. We played some games, collected tickets, and had some fun. Sara picked out a wooden light house for her mother with the tickets we had won and we walked back via the road and called it a night. Great couple days, glad we had the chance to spend it with my sister and her kids. It's always nice to have family around.
(March 31, 2009)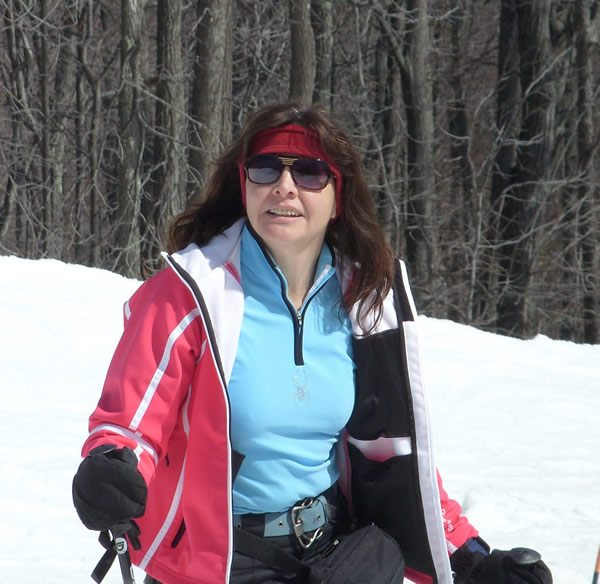 Well, Robin and I keep heading out for a final day skiing and then we find somewhere else that will be open when we're near! We have been hoping all winter to get up and check out this resort in North East Virginia and as luck would have it, his work sent him up to a Wilson, NC, due South of it, right before Wintergreen's closing weekend. It was a few hours drive, but we had to take the opportunity to extend the ski season yet another day.
The resort was down to the minimum open runs but definitely was worth a look. We will have to make it out next winter when they're fully open and hopefully get up to Show Shoe, WV next season also. Snow Shoe is the largest resort with in a day's drive at 5 hours from us.
Although, the most difficult runs were not open when we were at Wintergreen, we could see they have a decent number of black terrain runs, one bump run we could see, and a couple of double diamonds. With that for a nice mix of terrain, we will be giving them a second look next season.
The drive home started out on an interesting note when I told Robin I thought he should turn left to get to the main highway. He should know not to listen to me by now, I was thinking of a different main high way.
Robin followed the GPS home after making one wrong turn on the way out, making the ride home at least as exciting at the ski day. First it took us down a steep dirt road in the trees...
Then there was a very ominous road sign, ....
Would you drive down such a road? But after finding our way back to the main road, we made it to the Olive Garden for dinner.
Oh, yes, the recession I keep hearing about hasn't affected the Olive Garden's in the Carolina's. Each time we go we have to circle the parking lot for a parking spot and then wait in the big line for anywhere from 20 to 45 minutes with all the nice people at the door. Unbelievable how busy
this restaurant always is. The red car on left here is circling and if you click, you see another car making a drop off at the front door for their passengers to run in and get on the waiting list.We think the food is worth the effort, so Robin joins the line here also.
On a side not , it won't be our last day of skiing after all. We are off to Denver, Co, in two weeks Robin's work. I am flying out with him and purchasing an end of the season pass for Arapahoe Basin which remains open until June. Looks like I will have one of my longest ski seasons ever, even if not my most ski days in a season. The total is certainly getting up there for a change though and the mix of resorts has been impressive this season.
| | |
| --- | --- |
| Archived News Stories Here : | |
It's Better in the Bahamas - 4 day, 3 night mini cruise to the Bahamas; get all the details.
A Wedding! November 7, 2009, Leonard and Jenny Parker - The big day.
What about the Norfolk Area -Favorite places to eat in Virginia Beach, Chesapeake and what to see.
Atlantic City, Long Weekend -Why we keep going back. Where to eat, sleep and play.
Washington with Grant and Donna - Great time. So awesome to meet up with old friends, and Shelby, you're not 2 any more!
Four Days in New Orleans - Fours days free in New Orleans was a great time. It's on the list for a week's vacation now, with so much to see and do.
Atlantic City Weekend - Caesar's invited me for the weekend, free flight for two, free rooms and most meals free. Well it's never really free, but it was nice.
March Break, 2009 - Katrina and the family come to Myrtle Beach.
Wintergreen, VA , Closing Day, 2009 - A day at Wintergreen Ski hill, and we thought ski season was over.
Summer 2007, wow - Catch all the up to date news on who did what, and the latest pics.
New York City New Year - Happy New Year 2007!
Wow Vegas, A Modern Wonder - What a birthday.
Richmond & Portsmouth, VA - What a weekend it turned out to be.
Len and Jo-anne Graduate- Definitely the highlight of my year was these two making it to graduation!
S.N.A.R.T. Group of Racers - Fun weekend, details in the news.
Natalie and Jay at Disney - A surprise visit to Florida for my niece and nephew, details here.
Holiday July 2005 - Rockford and Chicago highlights from 2005,click to go right to the story.
Skiing In North Carolina -Yes, there really is skiing here! See pictures, links to hill sites and more. Click to read.
Cruising the Caribbean - Nice cruise pictures and details.
Fit and Forty - How I did it!