Summer 2007: The Ex, Niagara Falls, Lion Safari in a week.
Niagara falls is always one of my favorite stops, and it's not the Casino I'm after. This trip was no exception and better then most. Shawn had no ID with him to get into the casino so we didn't even have to venture in to it. As a matter of fact, when he presented his two week expired license that he hasn't had time to renew he was denied entry and we couldn't even take the short cut across the casino floor! Not that it put any kind of damper on our day, it turned out fabulous. Lunch here at the The Skylon Tower was probably still less money then the Casino would have take and the views were spectacular in the quiet of the tower instead of the hustle and bustle on the streets below the tower. We finished lunch in time to watch the Tight Rope show. Watching him walk across was scary enough, I sure wouldn't want to be on the rope. At the bottom of the tower there was fun and games in the games room. Shawn and Kaitlin did some dancing, we all raced cars and motor bikes (I won the bike race!), and cheered on Robin and Shawn as they raced some more. I even snapped a shot of the rainbow over the falls before heading home for the day.
THE EX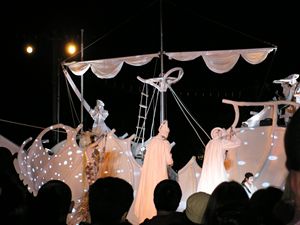 The EX, The EX, The EX. I still love the CNE. It's nice to go with all the family every year and know that all will find some high light each year that makes the day worth while. There's just no other fair like it and that is what it is. It's the old country fair, done huge. Add to the CNE the entry to Ontario Place and it's just a great day. This year Ontario Place had the Chinese Lantern Festival on when we were there. The paper lanterns put up through the grounds are incredible. Check out the Panda's hiding in the forest! Click the link, it's worth it! What's not to be fun at the EX. The rides thrilled Alida, the food wins me over every time and the crowds and shows are sure to win the rest.
African Lion Safari and Camping at Six Mile
Two more highlights from the summer were visiting African Lion Safari with Alida and camping at Six Mile Lake, Ontario. The Lion Safari had us travel by train, plane (okay not planes), boat and bus.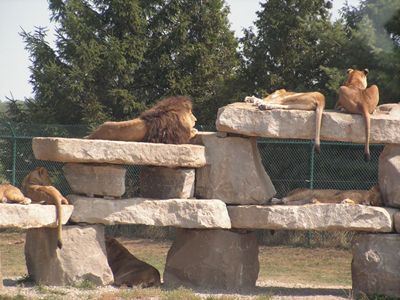 Robin and Shawn are happily settled in for a train ride here. After viewing the lions, monkeys and safari animals from the Safari Bus, there is rides, shows and a water park to fill the rest of your day. A good deal of fun for a good price. The parrot show with cycling birds, talking birds, and various other tricks, went over huge with Alida as did feeding the goats.
Earlier in the summer on the August long weekend, Alida, her mother, Joey (Jo-anne),myself and, all went camping. I haven't camped since my boys were young and it something I sure missed. It was wonderful to spend the weekend playing on the beach, watching Alida have fun kicking the sand, building rock guys on the nature path and just cooking over and open fire again. The paddle boats were a huge hit with Alida, she still talks about going on the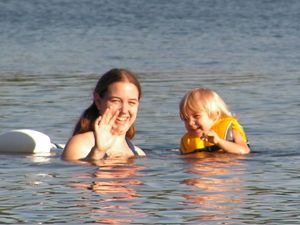 paddle boat. Although we missed out on pictures the other hit of the camping weekend was bear hunting. There's been two black bears wandering the sites for the summer and on the final day we caught out first glimpse of the. Shame Alida missed that, she had spent all weekend looking for them. All in all it's a been a very full summer, and my news only touches the tip of all that was done.
(New Years 2007)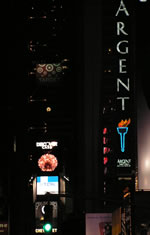 New York City for New Years is one of those things I'd always dreamed about when watching it on TV as I baby sat so finally the opportunity came to go and do it. The New York experience is always an interesting, historic, and cultural excursion; the excitement in the air for the New Years Eve party and ball drop would just add to it. Click the thumb nail here and get a close up of the Waterford Crystal Ball being raised. That's something new I learned. I had no idea that ball was Waterford Crystal. Apparently they will unveil a new design for the 100th anniversary next year.
We arrived on December 30th, 2006, giving us all of New Year's Eve to enjoy the city and sights. Robin woke me bright and early on New Year's Eve for what would turn into a 13 hour excursion through the streets of New York. We were staying just 4 miles from Time Square on the Queens side of one of the city center bridges. We wanted to walk across to down town but there was no pedestrian path across the bridge. We started off going through a HUGE and historic Catholic Grave Yard that went for miles and miles right across from our Hotel. It had the most ornate carvings, grave stones and mausoleums I'd ever seen. The names in the yard were many of the first Irish and Catholic families to settle the area and made the contributions to make New York what it is today.
From here we flagged a taxi and had him take us to New York's port where you catch the ferry to Ellis Island and the Statue of Liberty. There was a massive line up in the park here and Robin I were trying to figure out what they were lined up for; it went on for blocks! We skirted the line to get near the front and see what it was all about and while winding our way through, the Port Authority made the announcement that all ferry crossings to the Statue and Ellis Island were now sold out for the day. This was at approximately 11am. Incredible. These people would stand in line for waiting for their ferry. The ones at the back would be there until the last ferry would set off that evening. Well we could see them another time! We had already visited Ellis Is, and the Statue on a previous trip, though we hadn't been allowed to go up the Statue at that time. We'll do that another day.
From the waterfront we walked up past the financial district where we found a wonderful little deli to have lunch. You paid by the pound for ethnic pastas and salads and burritos, etc. It was the best lunch I could ask for, good for me, tasty, and so inexpensive! It was under $6.00 with the tax and I had a little flavour of everywhere. Terrible I don't recall the name to pass it along.
From here we headed toward Ground Zero to see the memorials left and the plans for the new Trade Tower. There's a beautiful Bronze Wall plaque memorializing all that were there, who fought and died. There's a link below on the thumbnails to view it. The construction is hot and heavy on the new tower and the design looks incredible. The bottom 3 floors will feature pictures and stories of what happened to the first so no future generation is lulled into a false sense security. The pictures shown are poignant and sad and hard to look at still. Maybe just too close yet, but I believe it's a wonderful way to commemorate and memorialize it. It has a real personal feel to it. The personal stories and artifacts of the survivors and families that lost loved ones are touching and heartfelt and evoke real emotion.
Finally time to head up toward Time Square! Passing some of the wonderful historic architecture on route we sauntered our way (my hips were hurting and I could barely walk by now)through various little stores until we came to Macy's, New York. All the Christmas window displays were still out and charming. By the time we left Macy's it was about 4pm and we were starving!
We left the Time Square area and this was a big mistake! About this time the police started forming everyone along the main street to view the ball raising at 6pm and getting it organized for the entertainment stage to start and go until midnight. By the time we wanted to head back it was barricaded and we were sent to 42 street, then 45th, by then it was full and we were sent to 52 street to view it from. A bit far from the action. It was relatively mild but colder then I wanted to stay out in all night. We were corralled into little pens made with barricades by the police and each person entering was checked for liquor or any other illegal contraband. If you left your corral for anything (bathroom break) you couldn't come back. This is the security measures since 9/11. No toasting the new year on the street with champagne, just stay in your police guarded corral and watch the action on the TV screens or the stage if you're close enough. There was also allot less entertainment then I recall 15 years ago. The flashes to other venues in New York and Vegas were put on the big TV screens but weren't there. A few entertainers came on stage in the cold but most didn't. More TV crews then anything were up at the staging area. Dick Clark made an appearance, but didn't stay and announce it all. It just wasn't the same. We left our corral and found a nice italian restaurant a couple blocks away, had dinner and went and watched the action on TV from our hotel room where we could toast the New Year in warmth and comfort. We did see the ball raise, but it would have been a long 6 hours to wait for the drop. Nice in my fantasy, in reality, not quite what I was expecting. I need to be able to roam for coffees back and fourth etc, but the reality of security measures just don't allow for that anymore.
A good New Year, even though I wouldn't go again, and I wouldn't wait to see the ball come down. Below is a few shots of New York and my attempted close up of the ball going up at night with a 4 second shutter delay and no tri pod. I couldn't get Robin to stand still enough while I balanced the camera on his shoulder in the middle of 1 million jostling people. The bronze plaque is incredible and needs to be seen in it's entirety.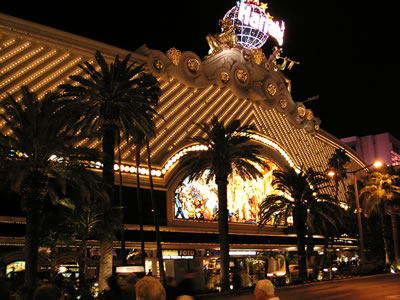 (December 2006)
Well Robin really out did himself this year, I wonder how he'll top this next *grins*. To the left here is the front of Harrah's casino, Vegas, where we stayed for our 4 nights in Vegas. The Vegas Strip has really got to be added to the list of Seven possible world wonders. It may sound corny, but seriously, where else in today's world do corporations put in the kind of time and money to build the architecture you'll find along the Vegas Strip? The construction along the strip is incredible, and each place, even with today's technology will take years to build. It has me wondering if Ancient Greece wasn't really the ancient world's playground. From New york, New york, to the Eiffel Tower, the pyramids of Egypt, Medieval Castles and the Freemont Street light show and Christmas tree, Vegas has it all. All this and I've said nothing of the free live shows let alone the variety you can pay for and, yes, we did enjoy a few. I can't name it all in an article, it would take book, but click the links to check out just a few of the sights from Vegas.
My Birthday Tour

December 13th, 2007 we set off at 6am on bus with South West Tours to the Grand Canyon via the Hoover Dam. We stopped only briefly at the dam on the west side,

where I snapped a picture of Hoover Dam Angels above. These were erected to protect the workers and in memorial to the 100 plus workers that died in the construction of the dam. People come out and rub the feet for luck or protection and this is why you can see the light colour of the feet above. They've been rubbed shiny. There was people in and out of cars as we passed to rub the feet even now.

From the dam we rode out across the desert and through the Joshua Tree Forest where we are told the trees are over 900 years old. It's a pretty barren and desolate spot but there is indeed an entire forest of these cactus like trees. Some quite large, as in this link.

At the end of a 20 mile long bumpy road we arrive at the Hualapai Indian Reserve where they run tours to the canyon via helicopter, boat and bus. The reserve is open to public and anyone is welcome to drive out on their own and book their helicopter flights or take the upper bus tour.

Next Stop, Grand Canyon West

When we arrived we boarded a helicopter and were flown the 10 minutes to the bottom of the Canyon. Here we boarded a pontoon boat where we were treated to the grandeur of the canyon from the water. If this wasn't enough, after coming out of the canyon (helicopter is the only way in and out here, no climbing allowed), we had our choice of lunch at a dude ranch with the cowboys or a BBQ with the indians overlooking the canyon.

We chose a wagon ride to the ranch, definitely the right choice for lunch if you're taking the tour. The young chef at the dude ranch cooks up a meal fit for a cowboy. We had our choice of 4 home cooked meals. Beef stew in a fresh sour dough bread bowl, home made meatloaf, a mexican style grilled chicken breast or good ole macaroni and cheese. We couldn't make up our mind so he gave us a little of everything. It was served with the pride only a true cowboy could muster.

After lunch we took the bus to the site on top of the canyon to admire a little more of the scenery before heading back to Vegas. The view from the top is incredible. The cliffs feel endless and I'm sure I can reach out and touch nature herself from here. If you're ever in Vegas, take the tour.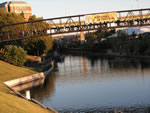 (Oct 15, 2006)
This started off to be an uneventful drive to the next work location for Robin and turned into a really interesting weekend. Certainly not the normal weekend for us on a work trip. We headed from Johnson City, Tennessee for Richmond, VA, on a Saturday morning so Robin would be ready for work bright and early Monday morning at the near by Trojan plant. We thought, rather then go home for a part day on Saturday, we would head straight to the next job and save a tiny bit of drive time. We had no idea Richmond and the surrounding area had so much to offer.
When we arrived and started looking for a hotel room; allot were full and we kept seeing these signs to park and ride free to the festival. Finally we found a room at a Holiday Inn right beside a large stadium whose lot was being used by the Richmond Transit for the free Park & Ride to the Festival. We unpacked, showered (we'd just done an 8 hour drive), and headed over to the parking lot to see what all the fuss was about. Turns out, this was the weekend of Richmond's 68th annual Folk Festival and 70,000+ visitors were expected to attend the 7 stages of free shows set up in the downtown area. The city of Richmond blocks off all its down town area roads for the Festival and gives free rides to and from the designated parking lots. We jumped on the bus and went to check it out.
It was an event not to be missed! You can read more about it here: Richmond National Folk Festival. We arrived at the down town Portsmouth River site just before dark, as seen in the picture above and went and had a glass of wine and some fabulous pulled pork sandwiches for dinner. As dusk set in I got a couple of gorgeous pictures of the river. It's a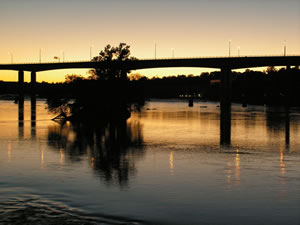 really pretty down town and an awesome setting for the festival . At the festival we not only saw the scenery and ate terrific food, we watched some incredible raw talent. "The Lee Boys" played on one of the stages at 8pm and were a cross between rich classic rock and blues and they were an act not to be missed. We did a little shopping, bought a couple harmonicas for my niece and nephew's Christmas (their dad plays and we thought he'd enjoy them having real ones), and headed back to the room early for a good sleep with a plan to go see Norfolk, VA (1.5 hour drive) in the morning.
Little did we know what Norfolk would hold in store for us. As we wandering the shores of the Chesapeake Bay, in Norfolk, VA, admiring the most unique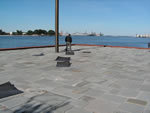 War Memorial I've encountered, we discovered a Ferry to Portsmouth. The memorial is a series of iron letters scattered over the dock and up onto benches and into the bushes that look like they blew in on the wind. Each letter is an exact copy of a letter written to home and dated from the many american wars, right back to the revolutionary war, from a soldier that died in the war. We wandered down the dock and boarded the Ferry and for $1.00 we crossed over to the little tourist town of Portsmouth.
Walking the break wall we came across some sort of event behind a gate and noticed tickets were sold at Ticket Master. We started to head away as we had no tickets and a local Radio Station person noticed us walking away and asked if we wanted tickets. We asked what was going on and she said a Chile Festival. We thought, sure, we could do with chile for lunch. We got the tickets and in we went. It was one of the quietest chile bake off's we'd ever seen and yes, we've been to them before. We were going to leave when I looked at my ticket and noticed that Everclear was on the schedule for 5pm. We thought it highly unlikely a band like Everclear would be playing at such a small festival and decided people would arrive for that later. We arranged to leave and come back with the gate monitor and came back for the concert at 5 after some shopping and exploring of the area.
Well, it seems the event (put on by 5 or 6 radio stations), somehow lacked advertising and no one was showing up for this concert. There was people on cell phones telling their friends, "get down here, there's tons of tickets yet, come see the band" and about 100 to max 200 people here to see the band. Everclear came out on stage and they were wonderful sports. Welcomed us all to their private party and asked to move out of our seats and come stand at the stage as there was so few in attendance. They put on a fabulous concert and after invited us all to stay and have cd's, shirts and tickets signed and just chat if we wanted to. We have a signed cd and tickets and the wonderful picture above. It made for a unique and interesting weekend. They did a great concert!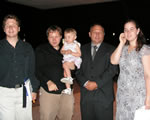 (June 29, 2006)How can I write about anything else, before the highlight of my year, which was seeing my son graduate. My news may get a little out of order, but this was my most memorable event of the year. Len and Joey (his fiancee) graduated Gr. 12 together. The picture on the left here links to a larger one of the two of them and my wonderful granddaughter Alida. This was after the ceremony when we were all getting ready to head for a drink and dinner.
Joey and Leonard have certainly had a long go to hit graduation and both worked hard to stay in school and get it done in spite of obstacles. Neither is very pleased with their finishing marks, but, I've pointed out, they had better be proud of the fact they did it when most would have given up long ago. I'm proud of their staying power!
Two years ago when Len was doing his last semester for the second time (he missed it the first time due to chickenpox, twice in a row, putting him out of school for 8 weeks), he had moved out and was splitting rent with two friends, all working part time, he had a baby. Well okay, Joey had a baby, and she took the one semester off school and returned. They got engaged at this point, but had been seeing each other a year or so.
Well that was October 3, 2004, shown below. In the first week of November the apartment he shared with friends was destroyed by fire. Leonard was caught in the fire and pulled out of it by two of his friends. He had 16% of his body (which the hospital informed me on arrival was not fatal until 25%), burned with 3rd to 4th degree burns. Mostly his feet were seriously burned and first and second degree burns were on his arms and face. All but the feet healed scar free, as you can see above. He spent a good 8 weeks in hospital and then some months recovering at home. He finally was able to return to school for the first part of 2005, finished in January 2006 and graduation was June 29, 2006. He really should hold that diploma proudly and not worry he didn't have the grades he wanted. He persevered and he did it.
(May 6, 2006)
I was introduced to Snart this weekend. They're a team that races small bikes, 883 sportsters and the like for land speed recorders. They've done very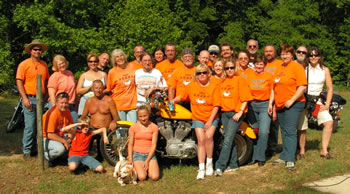 well in the few years they've been racing. You can view their page for details, snartracing.com.
This is a group of people Robin met through his friend George and I'm sure I'll be seeing more of them. Great group of people and they race quite near by. I took lots of pics for them while I camped with them this weekend and posted a write up at snart.parkersspace.com .
(February 12, 2006)
In February we talked my mother-in-law, Joy, into bringing down my niece and nephew with her when she was coming to visit. We made big surprise plans to go out for a drive in search of alligators and end up in Florida! I don't think I've seen the kids so excited as when we accidentally pulled under the Disney gates upon arrival as we were still trying to tell them that we were no where near disney. They figured it out.
We booked into an incredible hotel if you have children. The NickelOdeon Holiday Inn in Orlando Florida is less than a mile from Disney and is a playground no child will tire of. Great staff and events for the kids. Awesome pools and slides. The kids were so enamored with the NickOdeon hotel they asked to head home from Disney World early so they could go play on the slides and in the pools. It's a must. Pictures below will link to shots of the hotel pools and alligators, we did eventually find. As usual, click any picture for the larger version.
(Winter 2005 - 2006)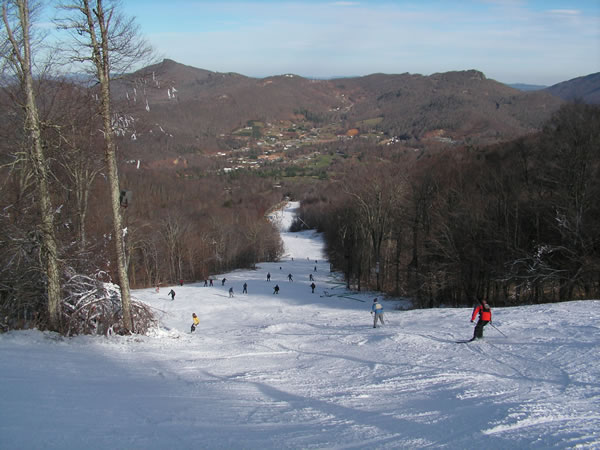 Skiing and North Carolina didn't seem to me to be synonymous, boy was I wrong! I was soon to discover there is eight ski hills in North Carolina Mountains. The hills have higher vertical drops then the hills I regularly ski in Ontario; I was in my glory. I didn't have to give up skiing to have great weather. On November 19, 2005 the first of the two highest ski hills opened for the season.
Sugar Mountain, pictured above, has 1200 vertical drop, good snow conditions and nice staff. Not the number of runs we're accustomed to in Ontario, but what is there is good. There is a bit of a long run out (lack of pitch), on the bottom half of the mountain and we found ourselves' preferring Ski Beech's (click the little pic to view) 830 vertical drop for most of the year for it's consistent pitch and awesome ski deals. Ladies ski for free Mondays is hard to beat, and since I'm not working I could take full advantage of it. Men ski free Thursdays and we did make it out a couple of Thursday's to take advantage of Men's day also. Ladies' Day is the quietest of the two, but this resort is no where near the skier traffic you find on Ontario hills. This helps make the smaller number of runs very enjoyable also. Next year we'll have to try Hawks nest which we never made it too. It looks small but has live entertainment every weekend and has a reasonable vertical drop. The rest of the resorts looked a bit small for my liking. Below is a few more pictures. Town with no snow, before leaving and Robin up at the Ski Beech Village.
Well, just where does one start when I have the busiest year ever to cover. I could have been updating my page every month and still had too much to write!
I headed off for two weeks of cycling in Rockford, IL on my holidays last year. My husband managed to get a few days off from his new job, so we spent them exploring Chicago together. What a wonderful city. The picture above I took from the top of the Ferris Wheel on Navy Pier. We had awesome weather and I found Chicago to be a very clean and very pretty city. I have an awesome shot of the beach from the John Hancock Building at full zoom. I have too many pictures to post, but if anyone was looking for pictures of a particular area, building or park of where I've been, feel free to email me and I'll send along a pic if I have it.
Rockford was putting on the largest fireworks show for July 4th, 2005 in the state of IL, so, of course, my husband and I made sure we were in town to view the show. I have a couple of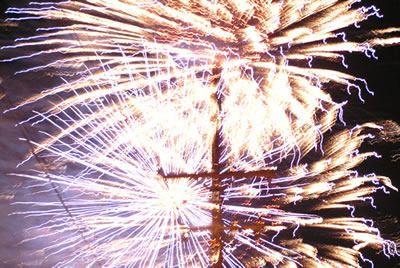 nice fireworks shots. Click the picture to see it enlarged and another on the text link. The display was great and easily compared to the world competitions I go to view annually at Ontario Place, Toronto, Ont.
Back to Rockford and my cycling holiday....I did get lots of cycling in. Rockford, IL has the best network of bicycle trails I've seen in any city yet. I also found Rockcut State Park with 23 miles of cycling trails, my favorite being pictured on the link. Robin and I stayed in a
lovely little cabin here, cooked a nice dinner on the bbq and just enjoyed the outdoors for a couple days.
While in Rockford, we also went and viewed the Japanese Gardens. This was a privately owned garden donated to the city by a prominent family in the area. They still live on a portion of the land near by, but the full gardens are maintained by the city and can be viewed for a very small fee which helps with upkeep. Overall Rockford made a far better holiday spot than I had imagined and I recommend the area to anyone.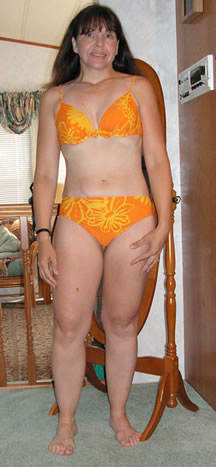 (July 2005)
Well as I noted on the cover, I had quit smoking a little over a year ago and promised to lose any weight I gained, rather than go on and on for years, with the "I used to be thin, then I quit smoking." I refused to believe it was because I was 40 as the world would have me believe. I knew the 15 lbs went on when I quit (with in 3 weeks), and I knew once I took it off it'd stay off.
I saw an Urban rebounder on an infomercial one morning and decided if I ordered it I'd use it. I have slightly arthritic knees. It's a juvenile arthritis and the rebounder promised not to hurt joints, so 3 days later I had spent close to $200.00 cnd on a mini trampoline and 10 videos.
I had no room in my little apartment to actually use it so I waited until May 20, 2005 when I was moving out of my kids place ( I gave them mine), and into my own. I had room!!! I used the rebounder religiously daily, and still do. I got in shape really quick with it, I could feel a daily difference. I also had to drop to about 1500 calories a day to accomplish weight loss with it. I took 10 weeks (1.5 lb's a week) to lose my 15 lbs. That was my original goal and I achieved it. It's now been about 23 weeks and I'm still down, no problem and eating far too much I'm sure. That's the next news though.
To monitor calories and nutrition, along with calories burned, I found a wonderful site.,www.nutritiondata.com. This site allowed me to add my own custom foods, has a huge data base of food already and a good base for restaurant foods, so I could monitor my nutrition and calories daily by just checking off what I'd eaten. I found the site and immense help. Once I had most of my favorite foods entered it was really not a problem to use. The set up is a bit tedious, but once it's done it's well worth the effort. I found I was very low on calcium in my diet and of all things salt. Most other vitamins and minerals I was obtaining fine so I started to take a calcium supplement. The weight came off exactly as the numbers dictated. I was burning about 5300 calories more a week than I was taking in, this is just about 1.5 lb's a week. All done now and I'm soo happy to have lost it, I'm showing myself off. I've gone down about 3.5 more lb's since the picture was taken, but it's close enough.
Wow, My Son Made a Baby Girl:
Grandma's So Proud!
(October, 2004)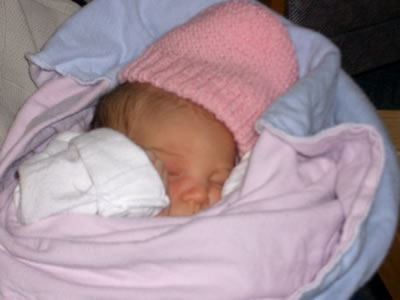 October 3, 2004 , I became the proud grandma of baby girl Alida. Leonard, my son, became a daddy! She's adorable; looks just like me. I have to put her down long enough to take a picture of her next time she's over so we have a more up to date one. This is the one I snapped of her in the hospital.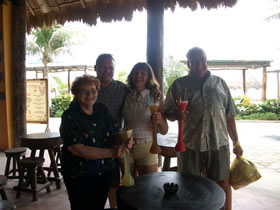 (January 2004)
January 11th to 18th, Robin and I were cruising the Caribbean West. We made it to Grand Cayman, Cozumel, Costa Maya and Belize. Belize was a fascinating city, quite the under current of crime. We had a great time, below you'll hear of some of the antics we got up to on board and on shore! There's tons of pics in photo gallery too.
First Stop, Grand Cayman

January 13th, 2004 we anchored the Inspiration off the port of Fort William , Grand Cayman. This was our first taste of the truly beautiful greens and deep blues of the waters of the Caribbean Sea. We anchored just before dawn and headed to town just as the sun had risen. Heading in on our little shuttles Robin couldn't miss the sign for the Grand Cayman Harley Dealership.

Grand Cayman was quite commercial, but we did get our first taste of salt water here, when we took a dip in the beautiful beaches. We walked along the shore back to port, and picked up some pieces of coral for souvenirs. All went well until Robin noticed his cell phone missing. This caused a minor emergency. The customs officer at port was very good at helping to locate the taxi(bus) we'd taken earlier and checking it. This was to no avail though, since the phone was safe with the purser's office on board ship, where it had been turned in by the breakfast staff that morning.

Next Stop, Costa Maya

Costa Maya, Mexico is a beautiful new port along the routes of Cruise Liners. It sit amidst the Mexican Jungle with beautiful sandy beaches and quiet untouched rocky shores.

Robin and my mother enjoyed a little too much Mexican Iced Tea (see above), and after lunch my dad and I had to drop them off at their cabins for a nap while we went out and explored more. By far, this was my favorite port and you can see more pictures in the photo gallery.

Cozumel, History and Civilization

In Cozumel we rented a little bug to see the Island. I guess the only place true Bugs are still sold is apparently Mexico. Our bug was basic with a front roof only, no carpeting and roll down windows with no air, but did the job just fine. We went downtown Cozumel to do a little shopping in there well built out door plaza and then after lunch we headed out to look over the Mayan Ruins.
LAST STOP
Belize, Central America , is a most interesting city. The undercurrents of crime here can be felt like a tension that can be cut with a pair of scissors. My mother actually panicked on the dock and decided not to even go into Belize. I loved the feeling of the tension and the crowds on the dock here and headed into town on foot with Robin. A local man (Mike) approached us shortly after leaving dock side and proceeded to guide us to the the museum, true Belize shopping (not the tourist spots), and the docks where the warehouses for the sugar cane they ship as one of their main crops. Mike did a great job of keeping the locals away from us and we tipped him well for his services.
The museum is a must see. An old jail now houses many Mayan artifacts from the near by Mayan temples and ruins. The jail, only ceased use in the early 1990's and gives a true feel of the oppression these criminals lived in. There's plaques and a history of the criminals who stayed in the jail, along with a very interesting collection of artifacts and a bug room with the local insects.
| | |
| --- | --- |
| Archived News Stories Here : | |
Summer 2007, wow - Catch all the up to date news on who did what, and the latest pics.
New York City New Year - Happy New Year 2007!
Wow Vegas, A Modern Wonder - What a birthday.
Richmond & Portsmouth, VA - What a weekend it turned out to be.
Len and Jo-anne Graduate- Definitely the highlight of my year was these two making it to graduation!
S.N.A.R.T. Group of Racers - Fun weekend, details in the news.
Natalie and Jay at Disney - A surprise visit to Florida for my niece and nephew, details here.
Holiday July 2005 - Rockford and Chicago highlights from 2005,click to go right to the story.
Skiing In North Carolina -Yes, there really is skiing here! See pictures, links to hill sites and more. Click to read.
Cruising the Caribbean - Nice cruise pictures and details.
Fit and Forty - How I did it!