Update: August 2020 - Crazy covid world. I think I mostly guessed right back in March.
Features and Headlines:
August 21, 2020- Photos are up but articles and details still to come - Hunting Island, St. Phillips Island and Hilton Head Island photos are up now, articles with details to come, check next week.
August 12, 2020- State Parks a safe diversion from Covid 19. - Wonderful time for quiet hikes in State parks and taking photos.
March 4, 2020 - Covid-19 fears; Are we a sitting duck waiting for it to happen in a global Canadian resort? - Dealing with possibilities.
Recent Photos:
Hilton Head and St. Phillips Island - Another Coastal Expeditions tour from Hunting Island to St. Phillips, purchased by Hunting Island State Park and be preserved along with a few Hilton Head Island photos. Check for details in the News.
Hungting Island Dolphin Tour - Wonderful tour with Coastal Expeditions and walk about the state park.
Windsor Waterfront Trail - Pictures from the parks along the trail.
Entertainment:
Movie Reviews - Three Stooges, The Girl with the Dragon Tattoo
Book Reviews - The Girl with the Dragon Tattoo, The Girl Who Played With Fire
September 25, 2019 - Cycling at Anne Springs Close Greenway - Review of the trail system in the news.
2017 Eclipse at 99% - My take on the eclipse at 99.2% magnitude. Under whelming but photos and story in the news.
Festival of Lights - Niagara Falls is waiting, November 19, 2016 to January 31, 2017.
Windsor Waterfront Trail ride - See what fun you can find in Windsor, Ontario, right outside the Casino.
The Henry Ford Review - The Henry Ford - A must visit, for more than a day.
The 2014 C7 reveal - October 2017 Two Years Ago - City Chevy - Unveiling Rick Hendrick's Second Charity Corvette C7 2014 Vin # 2
Sugar Mountain put in the Chondola 2015- My last article on Digital Journal
Charlotte Motor Speedway - Fall auto fair 2015 on Digital Journal
Thin Blue Line 2013 - Re-posted from my article at Digital Journal.
Carnival Cruise Western Caribbean 2012 - Full detailed write up of this cruise on the Legend out of Tampa, FL.
December 2012 - A visit to the Georgia Aquarium - Amazing what you can see and do at the aquarium.
Vancouver Island Favorites - Check out Vancouver Island parks and trails in the News, then go find the ones I haven't.
Aviation News- Museums and Air show, August must be Aviation month!
Summer Vacation 2012- Lets all go to the races!
Summer Vacation 2012 Photos - The kids, grand kids, races, and Lion Safari (what I could fit in 50 photos).
Cruising with Mom and Dad- Port Canaveral to Bahamas, a nice diversion.
Photos Cruise 2012 - Bahamas Cruise, 2012 with mom and dad
Vail and Denver, March 2012- Nothing like Colorado, Vail and Denver.
Whistler, Victoria, Blaine, 2011 - Don't miss this write up and the beautiful photos! Everyone should do this for Thanksgiving.
Miami and Bahamas, December 2011 - A fun 4 day cruise and a night in Miami, what fun.
October 2011 - A recap of October in photos, no big news update until next month, then look for Victoria, BC information and a mini Bahamas cruise.
Fall Fun - A Fall Hike and Fall Fairs
Winthrop Lakeview Disc Golf Course- An overview of the course.
Winthrop Lakeview Disc Golf Course - An album of the course, may add more photos later.
Summer 2011- Weddings, Disney, parks etc. All the fun in the news.
Midland First Annual Ace Race- Who won, how did it play, when's the next? Come read the details.
Midland Ace Race- Link for next years updates.
Mississippi - Tupelo, Memphis, Elvis Presley, Beale Street, Tunica, - Just fun, check it out.
Mississippi Photos- Beale St., Memphis, Graceland, Elvis Presley Park, Tupelo.
Tunica Photos- Tunica Riverpark airboat ride, and the evil Sam's Town employee.
Chattanooga -- Great Food, Waterfront Festivals and Fun - A fun place to visit.
Chattanooga, TN- A few water front photos in Chattanooga.
New Orleans and Biloxi Bound. - First Long weekend of the season, getaway. News and photos.
New Orleans and Biloxi Photos- Sites around New Orleans and Biloxi.
Fun at Maxton, NC - Land Speed Trials - ECTA - Details from the May 2011 meet.
Maxton Photos on Flicker - Find yourself or car from Maxton, NC, May ECTA meet up. Email for prints or high quality digitals.
Pink Slips Women's Car Club Photo Shoots - Car buffs check this story and VOTE for Sally...
Pink Slips LMC Photo Album- Photos from the day at Legendary Motorcar Company
Riverbanks Zoo Photos - An afternoon at the zoo.
Summit County, CO. - Quick update, on the Summit county Bears gathering..
Castle Mountain Photo Album - Lots of ski, scenery and friend shots. Find yourself.
Castle Mountain Winter - Friends, fun and work. - All the details, slide show and photo album.
Warning, HHGregg Return? - Read and be wary; features update.
Houston and Area - Houston, Galveston and the Gulf coast, what to do with 4 days in the area.
October in the Carolinas - Myrtle Beach new, Fort Fisher Ferry fun, York Fall Festival.-------Slide Show here too.
Fall Colours- Blue Ridge Parkway fall colours on Flicker
Victoria, Whistler, Whale Watching, - Finally added the details on a terrific spring vacation to go with the photo album I uploaded in the spring.
Port Dover, Friday 13th Ride In - Photos of the Port Dover Ride in.
Victoria, Whale Watching, Whistler - Complete pictures from my whale watching excursion in Victoria, BC, and the rest.
7 Days 4 Resorts, Utah, Big Mountain Fun - Salt Lake city Utah, a great place for skiers. Check it out.
It's Better in the Bahamas - 4 day, 3 night mini cruise to the Bahamas; get all the details.
A Wedding! November 7, 2009, Leonard and Jenny Parker - The big day.
What about the Norfolk Area-Favorite places to eat in Virginia Beach, Chesapeake area and what to see.
Atlantic City, Long Weekend -Why we keep going back. Where to eat, sleep and play
Washington with Grant and Donna -Great time. So awesome to meet up with old friends, and Shelby, you're not 2 any more!
4 Days in New Orleans - What a great get away. We escaped for 4 days and 3 nights to New Orleans.
Atlantic City Weekend -Caesar's invited me for the weekend, free flight for two, free rooms and most meals free. Well it's never really free, but it was nice.
March Break, 2009 - Katrina and the family come to Myrtle Beach.
Wintergreen, VA , Closing Day, 2009 - A day at Wintergreen Ski hill, and we thought ski season was over.
Summer 2007, wow - Catch all the up to date news on who did what, and the latest pics.
New York City New Year - Happy New Year 2007!
Wow Vegas, A Modern Wonder -What a birthday.
Richmond & Portsmouth, VA - What a weekend it turned out to be.
Len and Jo-anne Graduate- Definitely the highlight of my year was these two making it to graduation!
S.N.A.R.T. Group of Racers -Fun weekend, details in the news.
Natalie and Jay at Disney - A surprise visit to Florida for my niece and nephew, details here.
Holiday July 2005 - Rockford and Chicago highlights from 2005,click to go right to the story.
Skiing In North Carolina - Yes, there really is skiing here! See pictures, links to hill sites and more. Click to read.
Cruising the Caribbean - Nice cruise pictures and details.
Fit and Forty - How I did it!
More Work, Travel, and Fall Fun and Excitement.
November 8, 2011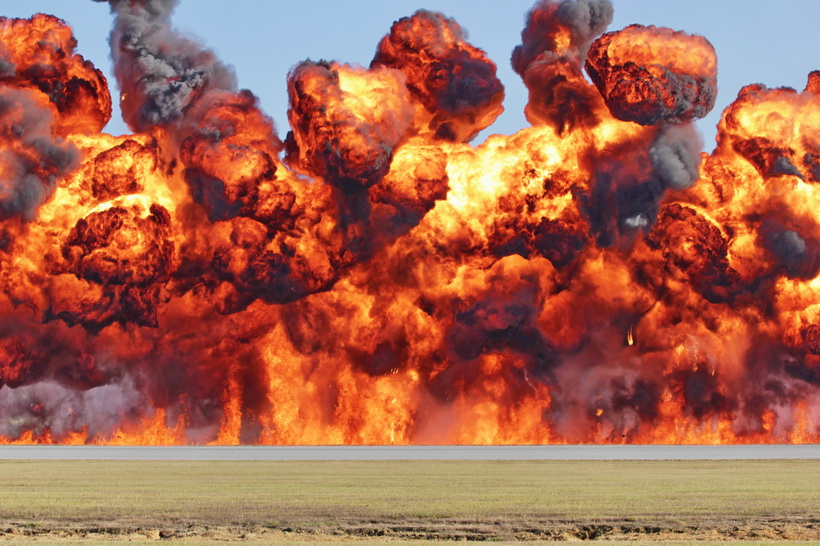 I always think I haven't done much until it comes time to update my web site and I start going over the month's photos, then I see, I did too much again. For those of you that were looking for a post on the US Disc Golf Championships, I never did get to it. Suffice to say, if you get the chance to go watch the pros, take it, and I did get to play the course before it was set back to standard and that was fun too. On to what I did in October...and what is that wall of fire above?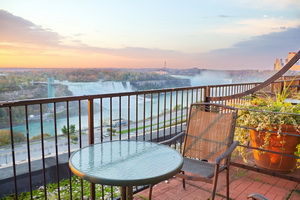 October's most spectacular photos come from the Warrior and Warbirds Airshow this past weekend, with it's battle re-enactments, complete with the wall of fire above, check out more in the Airshow Photo Album. October was a chance to catch up with old friends when I visited north, it was the annual Michigan State football game I always go to and something new, the air show this past weekend which was definitely a high light. I also went and sat in a hotel room in Macon, GA (rained the whole time I was there), got to see my grand children and made it to Niagara Falls. Meeting up with most of the Dinner Club when in Guelph (Robin and I belonged to a dinner club that met monthly for many years prior to moving from Guelph, Ontario) was hard to top for fun but then Niagara Falls in autumn was pretty nice too. It didn't hurt that the Crown Plaza decided to up grade our room to a balcony over looking the falls and included a bottle of Flourish Wine, 2009 Merlot Pinot Noir, VQA Niagara Peninsula. I hoped to get some time shoot the Autumn colours in Ontario when I was up but the rain and wind killed my chances of that, other then a couple of photos before the clouds came back on morning we woke in the Falls. The air show this past weekend was probably tops or a very close second to seeing everyone up north. I won't be posting a news update but I'll do an October photo album on the photos page that has highlights from everywhere in October and a separate Airshow Album to show some of the airshow highlights, with friends. If I saw you in October, you'll be in the album.
One last bit of news from October... My winter job will not be at Castle Mountain as I had originally planned. While up north and still waiting to hear from Castle Mountain on the years plans and start dates to book my flight and set up accommodation I had another thought about teaching in Ontario near the grand children. With a little encouragement from the grandchildren and popping in to talk to Jim Morris at Mount Saint Louis Moonstone (first place I ever skied), where he said he could fit me in for the winter, I made the decision to teach in Ontario for this season. I'll be near the family, be able to take out my oldest grand daughter over the winter and get her really skiing, and have Christmas with the family for the first time in several years. That leaves me one month now until I'll be on snow starting the ski teaching season. Check back next month for updates on visiting my brother in Victoria, BC, skiing BC if it opens and a mini cruise all booked before I head to work for the winter.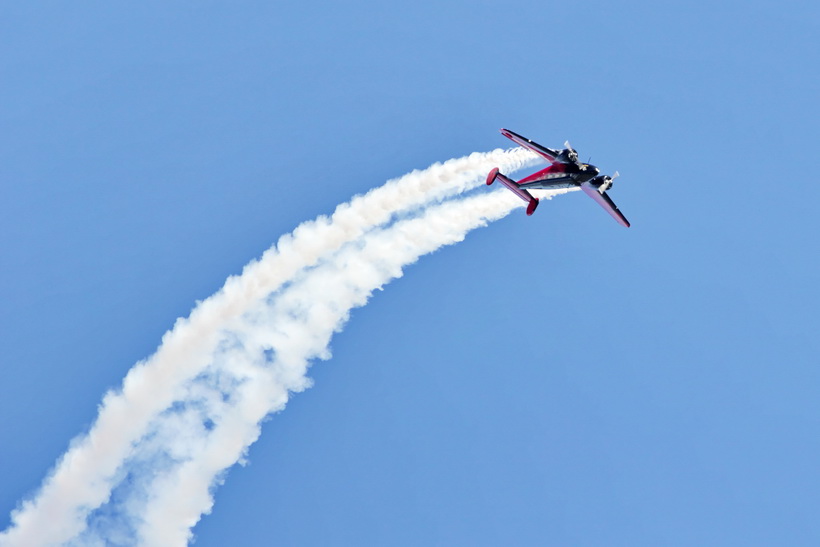 A Month Around Town - Kings Mountain Park, Shelby Fair, and US Disc Golf Championships
October 7, 2011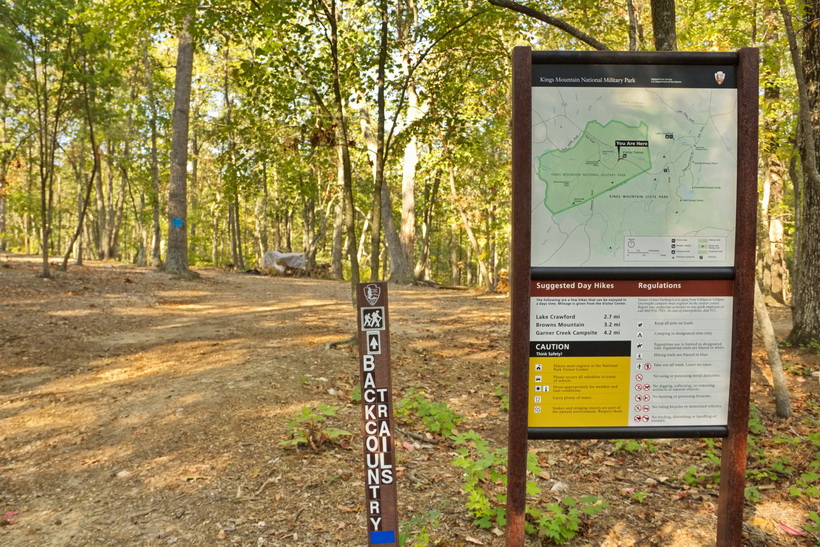 It has been an unusually quiet month for me and it flew past. I couldn't believe it was time for an update again when I looked. Since my post on September 9, below and arriving back in the Carolina's in late August, I haven't been away! I have traveled no where. I have stayed at the house and slowly put it back in order. I have taken time to play lots more frolf ( I will beat my son in next year's tournament ), I have been hiking at
King's Mountain State Park,
there was the
Cleveland County Fair
(North Carolina's largest) this week, and when I went to play Frolf this weekend past, at the Winthrop Course, the
US Disc Golf Championships
were on. I didn't play but I took a few photos and chatted to the amateur doubles team from Alabama (took their photo for them), and the next time out I watched the qualifying rounds for the singles going on now until Saturday and awed at how they throw. It was quite impressive really but I'll have more on that in the news, with photos. Speaking of photos, I've have finally had time to get some of my photos uploaded to
Istock
. I sat with only 6 there for so long. I'm up to 62 photos in my
Istock portfolio
as of last week, and I'm actually starting to sell a few. I'll have more details on on the month next week , with photos of course, in the news.
I'll be posting two pieces in the news over the next few days. Information on the Browns Mountain Trail and what we thought of King's Mountain State Park, and the Cleveland County Fair can be found in the news now. The fair doesn't end until Sunday so you still have time to get out and enjoy it. I'll also be posting some photos and details from the US Disc Golf Championship. If I am really energetic I'll get out and take a few more photos of it tomorrow or Saturday for the finals. If I didn't have to head away on Sunday I would love to play the course as it sits. Play the Winthrop Gold Course in Championship Shape on Sunday, October 7, 201, but register here. To get all the details, look for my updates next week as I'm all booked up until Monday and then till next month. Heading to Macon, GA for a week, then up to Ontario, where I plan to get some awesome fall colour shots at Balls Falls (hoping the weather cooperates for me), and I'm off to my annual Michigan State Football game; it promises that next month's update will be full.
Frolf at Home
Sept 9, 2011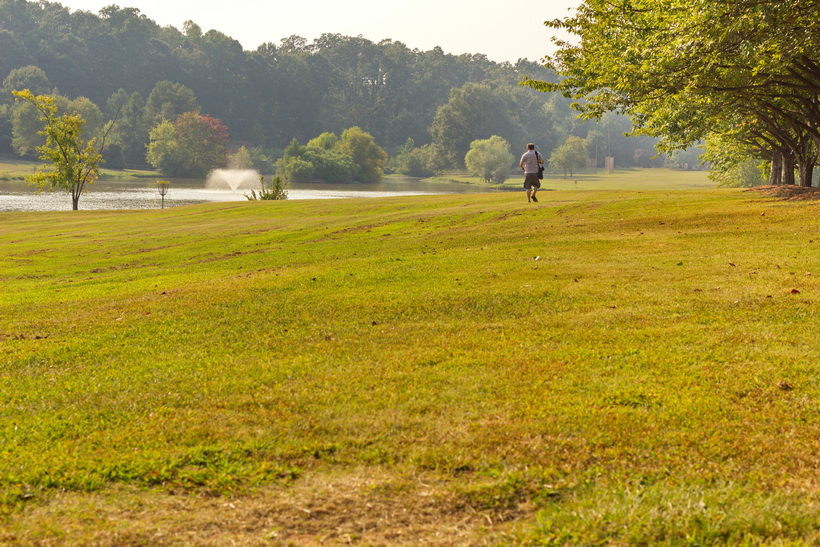 Finally I've had some time to hang around in the Carolina's. It's been a pleasant change and I'm still catching up from the past few months of too much to do and the soon to come too much to do again. I have taken to going out and playing frolf a few times a week. It's a great way to get in a nice walk, a little exercise and have some good natured fun. I can't come close to taking Robin out in a game, he obviously spent way too much time throwing a frisbee back in his day and unfortunately, he's just enough older then me to have been part of that frisbee generation I guess. Turns out there is 10 courses right in my community and one of them has hosted the National Frolf Championships for the past 10 years. Winthrop Lake Disc Golf Course (about 5600 feet, links to map) has become a fast favorite for us and we even ventured on the long course, Winthrop Gold Course (over 10000 feet, link to caddy book) once and really enjoyed it. If you're up for something new and want to learn a little more there is good beginner information at Disc Golf Review, and there is lots of course reviews at DG Review (find one near you) and information at the Professional Disc Golf Association web site. For photos and info and a beginners take on the Winthrop Lake Course, see the Winthrop Course Reviews in the news.
Other then Frolf we made it out to Myrtle Beach to visit friends vacationing from Ontario and tried to take them to the Rioz (Brazilian BBQ) but they insisted on paying half. I love that place, but you do have to be a meat lover and expect to spend $100.00 a couple before tips, and add more if you plan on drinking more then one drink or buying a bottle of wine, of which they have lots to chose from. It's only been a couple weeks since my last update but Shawn really wanted to see and hear a little about the Disc Golf course down here so I did the update. Buys me a little time on the next month's update.
Wow, It's the End of August, Where'd My Summer Go.
August 23, 2011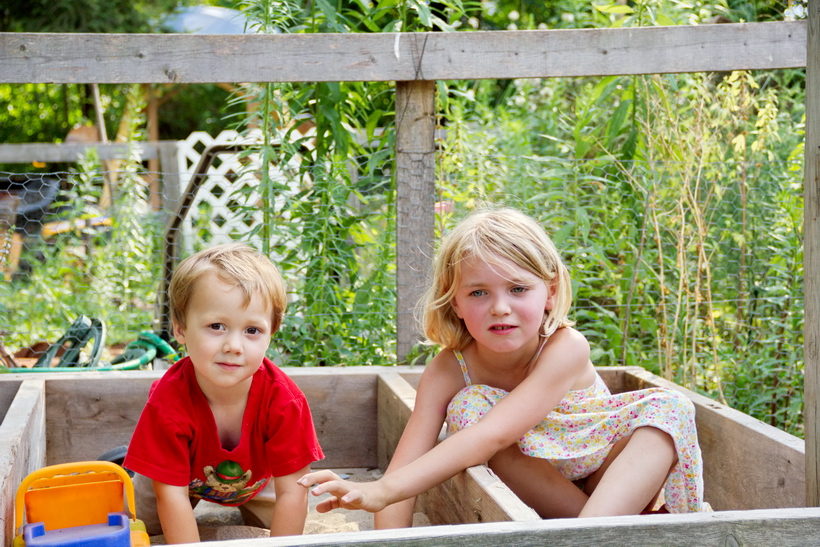 I can't believe the summer has slipped away again. It was all too fast and I'll soon be looking at another ski season, though I have quite a few plans between now and then. If you were part of my summer you'll be part of the Summer 2011 write up in the news. The Summer 2011 photo album will post my favorite photos from the summer, other then the Ace Race, as I have that one pretty much covered. I will also post a separate album with the Disney photos and Amanda's wedding.
Finally after three years of my son working on getting a custody hearing in court to get access to his daughter again, there was a few set backs with lawyers quitting firms, court being delayed etc, my son gained access to this daughter again in December this year and it was added to the court documents that she would be allowed to travel to our place in South Carolina any time he permitted. It looked like there might be a further possible delay with a lost passport but everything finally worked out and we got out grand daughter back for a visit after three years. We had several big promises she hadn't forgotten! She wanted to know, would she get to go on the plane ride we promised and she was willing to wait but.. would she get that princess dress and get to go to disney. Good to know she is still the sweet girl she always was and hadn't out grown her enthusiasm for the princess' yet. It was also good to see her and her little brother get a chance to play and get to know each other better. We had a great two weeks.
Since summer began I've been busy traveling with Robin a few places and up north for family visits, weddings etc. We hit Philadelphia, PA and tried out the two traditional Philly Cheese Steak warring restaurants, Geno's and Pat's. We made it to the niece, Amanda's, wedding, visited with all the grand children while up there, set off some fireworks and had our first weekend with Alida in years while there for the wedding. I got to spend some time with Shawn and Amber (his partner), Amber's sweet little guy Jacob and Audrey, my first grand child from Shawn. Shawn and his family came down to the falls with us and we had a great time there, doing the tourist thing, seeing the fireworks from the Skylon Tower and checking out the usual Niagara Falls fare. I was able to visit my sister with Alida and spend some time at her pool and visiting, which Alida didn't remember from when she was three, but loved anyhow, and then it was down south to fulfil those promises made to Alida. Disney was on the schedule. Read more of the visit and Disney in Summer 2011 news.
So the First Annual Midland Ace Race has a Winner
Aug 13, 2011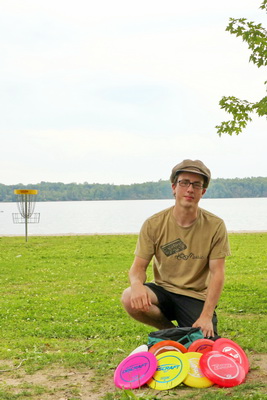 So the First Annual Midland Ace Race went off flawlessly. It was filled to capacity with 20 players signing up and a few more asking to join after all the disc packs were gone. Roman won the discs displayed for getting the most aces in the day. For more information on the tournament an disc golf, check out the Ace Race news.
Next year we'll aim to expand the size and try to accept everyone that's interested. There was more interest from potential sponsors as the tournament grew closer and people heard about it, so next year we'll look at setting up and announcing it sooner with more time to get sponsors and prizes. Thanks to Jody of the Pink Slips Car Club for her sponsorship of this years and the great lunch she supplied from Dino's (don't miss Dino's downtown Midland, if you're in town).
As usual, I have tons of photos, mostly of interest to those of us there. For tournament rules, disc golf information, and links to more information, read the full story in the news. Next year come get your aces.
Three new photos albums have been added to the photos page. My morning team in action, my afternoon team in action and just hanging around and eating lunch.
July 19, 2011 (photo by
EvanLovely, on Flicke
r)
So you've never tried Disc Golf yet? Come try it in Midland, Ontario, at my sons first tournament, the Midland Ace Race, great for never evers. It's way past time to check out this fun sport that really isn't so new. I've been seeing more and more of these strange baskets along fields on the road sides and wondering what they were when my son sent me a face book message that I should come play disc golf with him. I was like, "Play what?" He and his partner took this up this summer as a nice, inexpensive way to go out, get some fresh air and have some fun while doing it. They often go to quiet courses where they can drag their children along and the whole family has fun. Check out the PDGA (Professional Disc Golf Association) for more information on courses near you, etc.
I remember asking my husband if he knew what these funny basket things were that I saw on the side of the road and he shrugged. I was thinking they were animal feeders or something. Then I saw some a few weeks ago when I was in New Albany, MS at the Tallahatchie Trails Park, while I was cycling along with several cement inlaid markers marking Hole 1 to Hole 18 through out the park cycling and walking trails. I still had no idea what they were. Here I thought someone had donated or the town had taken over an old golf course and converted it to a cycling and walking park. What a chance I missed to try out something new and it really does look like fun. These baskets, it turns out are the holes to catch the frisbee. The discs (frisbee things) are made in different weights to fly long or short (putters), with different curves, etc. And to think I thought the baskets were animal feeders, LOL, or when I saw them at what I thought was a golf course, I decided they must have been all washers or towel holders, club washers, I really had no idea. Glad to be informed!
I'm really looking forward to trying out the new sport and hope many of you get the chance to also. New things keep us young. So, if you're anywhere near Midland, Ontario, Canada, don't be shy, come try out the Midland Ace Race. Sign up, pay $40.00 and get a starter kit that's worth more then your sign up fee, or look for one near you.
Blues, Jazz, Shrimping, and Elvis Presley? They're all in the Mid South.
June, 2011 (
Beale St. photo available on Istock
)
It all started in New Orleans on the May long weekend, last weekend of May, first of June. This year Robin took an extra few days off and we went to New Orleans and Biloxi with my parents, who came for a couple weeks visit, and did a 5 day whirl wind tour with us while they were here. I have so much to post on this month there will be two stories or possibly three to cover off New Orleans fun stuff, Biloxi, Chattanooga, and then an everything Elvis Presley tour starting in Tupelo, where Elvis Presley was born and leading to Graceland in Memphis, and yes, I did see Beale St. and had dinner at BB Kings. There's lot of fun stuff in Mid South. BBQ and the blues in Memphis, Jazz and Beignets on Bourbon St, in New Orleans, Riverbend festival in Chattanooga, air boat ride on the Mississippi in Tunica-- full stories, photos and information will start next week. Just a quick post to let everyone know I'm still here, just busy, but catch up time will come next week. Catch all the news on Memphis, Beale St., and everything Elvis in the news.
More from May -- Two New Granddaughters
May, 2011
We welcome Audrey Joy Parker (above) to our family this past May on May 3, 2011, from Shawn and Amber and a few days later we were blessed with a second Grand Daughter from Jenny and Leonard, Miriam Jane, below. I was able to meet both new grand children when I was up taking photos for the Pink Slips Women's Car Club in May. I can't wait to see them again when I'm up for my niece's wedding in July.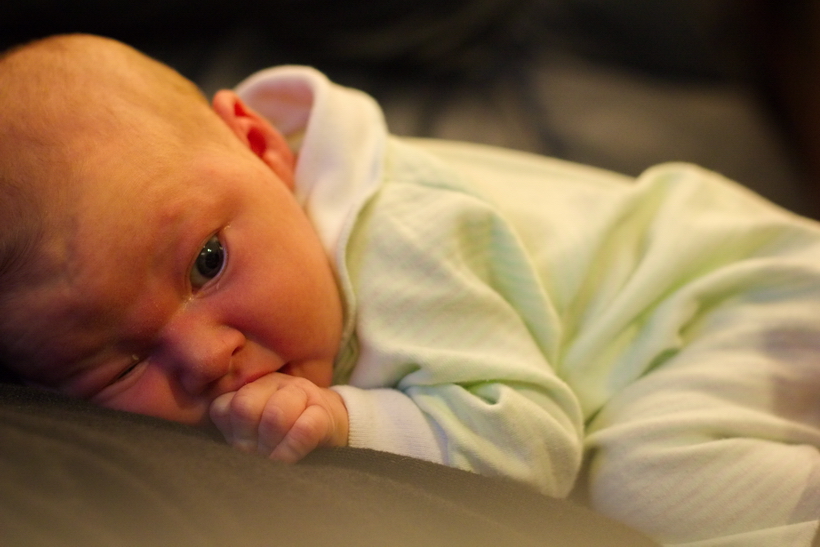 A Month of Spring, So Much Fun, from the Zoo to Cars, Did it All.
May 27, 2011
I know I'm a couple weeks late with my update but I've been busy. Wow I can't even fit my update on the front page so I'm going to do a series of news stories over the course of this week and get it all caught up by the end of the week. You wouldn't believe what I've fit into a month and a week. On top of the small stuff like test driving the Harley Ultra Road Glide one weekend, finding a great new park in Rock Hill, SC for our walks, River Walk, I have flown North to do two photo shoots for the Pink Slips Car Club (Jody), visited the zoo and I'm currently on a whirl wind trip to New Orleans and Biloxi for the long weekend, with my parents, who are visiting. But that will be in the next month's update.
For starters I've done my usual day trips and fun. I've been to the Riverbanks Zoo and Garden in South Carolina, yet again, and have some great updated photos from the zoo. The tiger was kind to me this time and made a grand appearance, prancing round his display and letting me get some great shots of him. They had a new display where you can walk in to the pen with the Wallaby's and Kangaroos and get right up close. They also had a young lady answering questions about them and you could show up to help feed them too. I love the Columbia Zoo as it is an easy morning or afternoon's walk to see it all and they have everything there. Monkeys, gorillas, polar bears, grizzlies, penguins, tigers, lions, giraffes, well everything, and for $10.00 you can't beat an easy morning walk around something so much fun. If you are in the area it's the top of my list for a must do. I'm uploading the zoo photos on flicker, check them out here when I add the link this week.
Maxton, NC for a weekend of the East Coast Timing Association's, land speed trials for this year called on us another weekend. Robin and I went and met up with all our friends there. I had a great time this month there and I was offered a seat on and in some of the race vehicles. Our race team wasn't running it's own bike this year but young Thomas is riding for someone else and did get the record in his class. I I have some nice shots of the new gear his wife bought him this year, a really nice set of racing leathers and great news, Kimberly and Thomas are expecting a child in the new year some time. I'll put up all the photos from Maxton in a flicker photo album also. I'll link it here when I get it done, but for now, I'm at least getting the update in. There's some nice shots of Thomas' race and his new gear, along with great car shots. It was really a car themed month as the photo shoots I was called up to help my son's company do were for a car club also.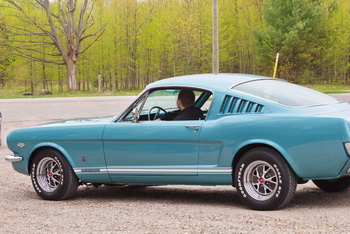 The high light of my month was definitely going north to take photos for the Pink Slip Women's Car Club and getting to drive to the shoot in the 66 Mustang that is up for a SEMA award in Canada. Please go register here and vote here for Jody's car. It was fully restored to the beautiful shade of teal green, inside and out. You can see more in the News when I do a full update with photos of all the awesome cars I had the pleasure of photographing for Jody and the cars at the Legendary Motorcar Company in Halton Hills, ON, who gave me free run of the show room and said I could post anything in there. Some nice cars, wow. I met Jody at LMC (where Dream Car is filmed) to do the second shoot of her beloved Delilah being stripped down ( 67 vette) and restored to it's original colour and state before she donates it to Make a Wish Foundation in Canada. This is a must check out story if you have any interest at all in old classics. The four cars we drove to Barrie, ON, for the first shoot were beautiful. The 66 Mustang you see here and a 67 Stingray Vette, a 79 Stingray Vette called the Maltese Falcon with the most beautiful mural under it's hood (yes under), and the 67 convertible Mustang. Do check out the news and all the photos of this event. Jody gave me a Pink Slips jacket, scarf and glasses, so cool, but I couldn't convince the LMC to donate a car to me. I thought the one in the linked photo or the nice Pink and Black Cuda they had on the floor would have been suitable and not too much to ask for. Also do Vote for the 66 Mustang to win the SEMA. Both ladies (Sally the car and Jody) deserve the trip to Vegas to represent Canada there.
So that's my month in short, check out the News and read more about the Land Speed Record weekend, in Maxton, NC, here, the Pink Slips Women's Car Club photo shoot here, and the Columbia, SC Zoo photos here. It's all in the news in a week.
Summit County Colorado, Epic Gathering
April 19, 2011

Well ski season has finally come to an end for me. Well possibly...I have been tossing around the thoughts of Whistler in May or Chile in August, but they're only thoughts right now. I did 7 more days of skiing, 6 at the Epic Western Gathering. If you haven't checked out Epic Ski Forums, check the link and check their forums. We meet twice a year with a bunch of them from around North America and the world, and have a great time. Skiers from all over the world with a common goal, to gain information on trips, get advice on gear and improve their skiing. You'll find an update on how the gathering went and the Summit county area, including Vail, Breckenridge, and Arapahoe Basin in the News.
If you didn't notice, I did a full revamp on the web site look. I brought it up to date a little and made the editing easier on myself. I've also managed to catch up on home front since getting back last week and everything at home is cleaned and caught up. It manages to look more like a home now then a deposit zone for stuff between trips. If anyone wondered, no, I didn't see any of damage from the Tornados and storms that ripped through the Carolina's on the weekend. Though we had some heavy rains and wind that pulled a few local tree branches down, the damaging hail and winds were north of me. All here is well and I'm set for a nice relaxing upcoming Easter Weekend.
Back Home....What a Great Winter.
March 31, 2011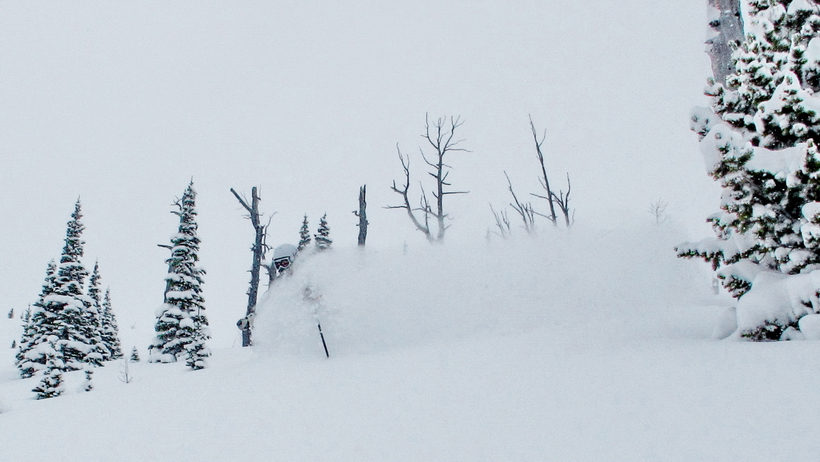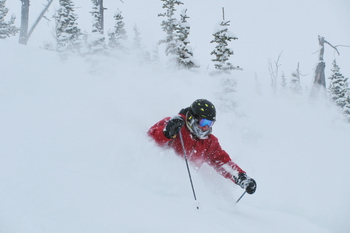 Finally I'm back home this week on Monday past, after a fabulous season teaching skiing at Castle Mountain, Alberta. The four months away flew past and though I missed home and the isolation drove me crazy for the first few weeks, I soon became accustomed to no television and telephones and enjoyed the stress free world I had joined. I chose Castle Mountain for the great terrain and snow conditions I had read about on line and I wasn't disappointed. Actually they claim I came on an epic year. I definitely skied more powder days then I have ever had in a season and the deepest lightest snow ever. I had the chance to be tail guide for the cat skiing operation, met really fabulous people and taught tons of lessons. I'm already set to head out again next year. Robin even went and purchased me a 4x4 Chevy truck so next year I can drive out instead of fly and be a little less isolated. Maybe I'll stay in town instead of on the hill where I can get phone service and good quality internet. Only next year will tell.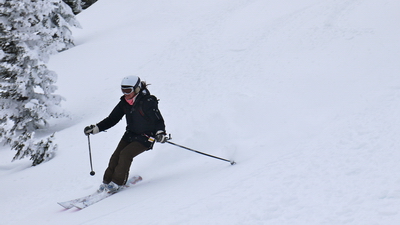 Just a quick update today as I'm heading away again this weekend. I've still 10 more days to get in some skiing in Summit County, Colorado. I'll be meeting up with the bears ( Epicski.com) at the Western Epic Gathering. I missed the Eastern Gathering, which was at Blue Knob, PA again this year, but Robin made it. In my last two weeks I was able to run as tail guide for the Cat Skiing operation twice; a real high point of my winter and a perk that will certainly help take me back to Castle Mountain next year. When I get back from Colorado I'll post a new update of the full winter, some more information on Castle and review Vail, A-Basin, and Breckonridge. Photos and details from the ski season are in the news update.
Castle Mountain Ski Hill, Alberta....The Winter Job
December 28, 2010
(December 28, 2010 update)
Well this is it; my winter home. For the next four month's I'm at Castle Mountain, Alberta with no phone, no TV and a very limited internet I'm hoping will be good enough to allow me to upload the occasional update before I head to South Carolina in April again. I decided if I had to keep doing these work contracts in Canada I should be working at something I love so I'm back to instructing skiing full time for the first time in some years. So far I'm loving it accept I missed everyone terribly over Christmas. Fortunately the internet decided to work for that day and I was able to Skype Robin and hear the grand daughter opening her presents and say hello to everyone. Since I am hoping for a fun winter as I'll probably just cover my costs with my earnings, I hope to get over the homesickness and have a great time skiing wicked terrain here.
Ski Castle is incredible inbound terrain. Probably the closest to outback, heli skiing I have ever skied in bounds. The photo above is cropped from the one on the left, showing a small portion of the 3000+ acres here available and open to ski on any day. Remember to click any photos for a larger view. Above I just tried to make the tracks visible. Freshies can still be found three days after a snow fall here if you head deeper in the trees or know the right gully to find the wind sift in. We had a few days of powder prior to the sun coming out so I could get good photos and I managed to snap a couple in sunshine that seems to be in limited supply here. With 30 feet of snow fall on average each year, most days it's snowing here. After a bit of a dry spell over Christmas week we have again been graced with two days of snow and it is piling up still as I type, making fresh tracks in the morning a sweet proposition. If you love gnarly, varied, terrain, chutes, trees and powder.....you need to find Castle Mountain, Alberta on a nice powder day. It's remote, uncrowded and just waiting for you to find the possibilities. Enough for now, below is a shot just off the chutes and beside Lone Star or possibly on it, Canada's longest running, 38 degree (steep) vertical run of 2800 meters, taken the same day as above when the clouds and snow were starting to move back in. Five years ago they opened the lower Haig Mountain giving plenty of intermediate groomed, and ungroomed terrain for those that want a little less pitch and some intermediate glades. Come here to ski, it's all there is, pure unhampered, open terrain to ski. A nice ski lodge or very clean and new hostel at the bottom of the hill, or rent a slope side private condo, and be first up the mountain in the morning.