Parker's E-Mag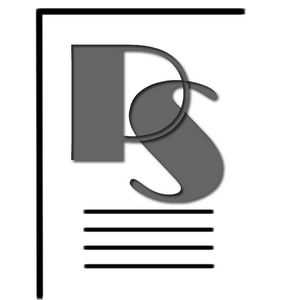 Shutterfly is the second photo site I have received a free photo book for a promotion. I have to say, it's really interesting to truly get something for free. Shutterly charged only shipping and handling at a reasonable rate for a promotional photo book with a promotion for taking a cruise on Norwegian Cruise Lines. I really appreciated only $7.99 for shipping and handling for that I received an 8x8 inch hardcover photo book. Worth a look if you need something, well done and I always appreciate honesty.
Shutterfly photo books offer a wide range of artful designs and embellishments to choose from.
HHGREGG, Where's the Customer Service you Preach? Readers be forewarned.
Post your opinion in the Guest Book
(November 25, 2009)
Well I have only made two or three purchases from HHGregg since moving to the Carolina's 5 years ago, but they had seemed okay. The prices were comparable to other appliance and electronics stores and they had a good selection. Well....I will now put them on my own personal list of next to fail. This,even though, their manager insists they are growing faster then any retailer. I think he better look beyond 2006's statistics and shouldn't just look at number of new stores to determine that.
Getting to the point....I purchased a cell phone at the HHGregg in Gastonia earlier this week. The phone was defective and I had issues with the off shore customer service offered by Net10. Net10 wanted to send me a new sim card and I said I would just return the phone instead. Well, HHgregg has a no return policy, exchange only, even on not activated phones, that are defective. So I was stuck with this service that did not meet my needs because their sale's person did not know about the product being sold (I wanted to use the internet browser when traveling, and Net 10 does not offer the use of searching your own URL's, and I wanted to communicate via text with my Canadian children, which also can not be done). Net10, in their defense, has offered me a full refund if I mail the phone in and was surprised that HHGregg would not do a refund and noted it on my file.
I did call corporate Hhgregg and they left it up to the store to decide if they would bend the rule but confirmed this was the rule.. I did call a manager and he was just argumentative and asked how his sales staff would know there was no texting to Canada. I suggested his staff may want to be knowledgeable about his products being sold in future but then I said good bye as he really didn't seem to care and could or would offer no assistance.
Well silly me, if I did things like check the BBB first, I would have seen that Hhgregg is very poor when it comes to answering customer service complaints, and if I had done a google search on the company, I would have seen they have complaints pertaining to customer service on warranty and return issues all over the internet. This is more then the typical complaints and the BBB listing them poorly is really an exception for a large retailer. So, I suspect they are either currently having money issues that are affecting their ability to take returns and honour warranties, or they going to have issues due to the very poor service record. They are too new and in too saturated a market place for this to continue with no repercussions. In particular, in the middle of a recession, this is not a good business model.
For myself ,I am forewarning my readers, when you can purchase from places other then Hhgregg you may wish to do that. For the same money you can make the purchase from numerous retailers with excellent warranty and exchange policies. Do check the service, warranty, and return details before purchasing any item from HHgregg; it varies for all items in the store and when an issue arises, according to the BBB and the internet, they do get argumentative and deal with it poorly. I was glad to find out with the $39.99 phone instead of the freezer and TV I was about to purchase. After pricing the freezer and TV at Hhgregg, where they wouldn't take the phone back, I suggested we purchase from Sam's Club. We know Sam's have incredible warranty and return policies. So we found a GE freezer at Sam's for the same money in the same size as the Hhgregg freezer (an unknown brand name), at Sam's Club and purchased it. We have not made the purchase of our 60" TV yet, we are taking more time to think about the endless options of what we might want.
Intrawest Resorts, Do Large Resorts Cease to Care?
Post your opinion in the Guest Book
Update: Intrawest has seen fit to email an apology for their tardiness and has mailed us the promised 2 night stay. They also have informed us they will update the training of the resort staff to try to make sure the panic of this situation does not ensue in future. Thank you.
(September 21, 2009)
I'm really late writing up this feature, as this happened in January 2008, but when saving files to my new 1TB external drive,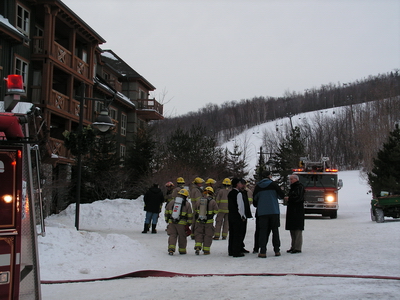 I came across a set of photos of the firefighters. It is also the time of year I decide where I'm going to ski this year. These were all taken on January 5, 2008 at the Weider Lodge, Blue Mountain, Ontario, while my husband and I stayed here for a weekend of skiing. Getting to the point, this was very expensive 2 day ($713.80), on hill accommodation, as pictured to the left here, with the hill in the back ground. While staying at the lodge, an elevator motor ignited a fire and caused damage to a wing. The firefighters were able to put it out and no one was injured, but the staff in the lodge made this a chaotic and somewhat traumatic event by their actions when the fire started and their service after the fire. They had the opportunity to make it right by us (I've been a Blue Mountain 5 X 7 pass holder or Night Pass holder for close 20 years), over the ski season last year, but their manager (Bruce) failed to follow through with the promised compensation. Hence, this write up. Others should know when a resort is too large, they seem not to care.
The Fire Alarm
The first bit of chaos in this incident started with a very quiet fire alarm beeping in the hall at about 6:00 to 6:30 am. My husband believes it was earlier than this, and I thought it might be, but as the first picture I took of fire fighters entering the building is 8:40 am, I will assume the 6 to 6:30am time is about correct, it was over a year ago now. The alarm was incredibly quiet, as it did not ring into the room, just in the hall. At first I thought, somewhere in an adjoining empty room, an alarm clock was left on and it was beeping incessantly. As I was up getting showered to have breakfast and hit the slopes for opening at 8:30 am, it didn't wake me, but was annoying me as I got ready. It suddenly dawned on me it was coming from the hall, so I opened the door and realized it was the fire alarm. I called down to the front desk to see if it was real. They told me not to worry, there did not appear to be a fire and they were looking into the source and would have it turned off. Eventually it went off of the constant beeping and went to a beep every minute or so. Reading the fire materials, it said this meant there was a fire somewhere and the building should be evacuated. Phoning the front desk again around 7:00am, they still said, no need to evacuate, they were looking into it.
At this point, I woke my husband and told him it was odd this alarm was still going and though the front desk said not to worry, maybe he should get some clothes on. He did this. About this time, maybe 7:15am to 7:30am, there was frantic screaming coming down the hall to get out there was a fire. At this point when I opened my door I could smell smoke. There was about 8 staff members from the Weider Lodge in the hall, banging frantically on peoples doors. There was one young lady in particular, obviously panicked and nearly hysterical (staff member), screaming as she passed doors and knocking to get out, don't get dressed, the building is on fire, "GET OUT NOW, DON'T COLLECT ANYTHING, THE BUILDING IS ON FIRE, GET OUT NOW". This had children screaming and running out into the snow in their underwear. She told people not to get their coats even, just go.
No Free Lunch (Breakfast in this case), Is Truly Free
(Click to enlarge pictures)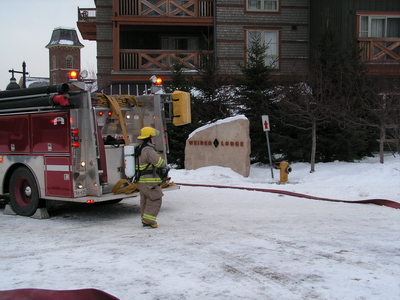 Fortunately I had been up and was fully dressed, not in my pj's or underwear, like most of the hotel guests. I did not grab my ski gear. The ski gear was in a locker in the underground parkade, I grabbed my coat, and I believe I had on my snow pants (typical attire for the weekend). Someone from the intrawest staff came over and finally got permission to have all of the freezing people go to the Central Cafeteria while people in other hotels brought blankets for children with no shoes and for people in their pj's and underwear. The fire department had not arrived when we went to the cafeteria. It was not yet open to the public or there was very little public there yet, and the intrawest fellow was gathering up staff to start early to try to feed the people evacuated and get them some coffee made. It took about 30 minutes and by then the public was gawking at all of us evacuated from the Weider Lodge and we had to line up in HUGE lines if we wanted a free breakfast. This seemed crazy (to wait in a line with public asking questions and gawking), so we went outside, just as the fire department was arriving, somewhere close to 8:30am, with a coffee, but intending to go buy breakfast at one of the village restaurants. I felt for those that had no money as they couldn't grab their purses on the way out and had to suffer the indignity of that cafeteria line with the public and show the staff at the front they were an evacuated guest to get their breakfast free.
I had my camera on me, as my camera bag is my purse which I picked up on the way out. So fortunate for me, I had been awake before the frantic staff came screaming hysterically down my hall, or I would have had no money on me either. I had no time to set up for night shots and 8:30 am (8:40 am is time on first shots) is still quite dark in January in Collingwood, so the first two pictures are too dark to be of use. All that is visible is the reflectors on the firemen jackets as they enter the building, but they do tell the time that someone finally was called and arrived to find out about the fire. The fire men entered, found the fire in the elevator shaft, put it out with in 10 to 15 minutes and then came back out. A couple stayed in to make sure the building was safe and no further fire was spreading unseen anywhere.
Most of the firefighters stayed out of the building, once it was determined the fire was out and under control. Here they are just waiting for the all the clear so they can pack up the trucks.This is taken at 9:21 am, January 5, 2008. AS we had no ski gear, we could not make use of our Saturday Ski Passes. The hotel did not let us back in until 11:30 am. We had a prior engagement to meet our parents at 12:30 am for lunch. This lunch ended up being our breakfast and we didn't bother getting our skis out to try and get a run before noon on a busy holiday (Christmas Week still), weekend. Our plan was ski the morning (now wasted) and then night skiing. They were so late to let us back in , we could not ski the weekend day time hours at all which I had paid for. If I had just wanted to night ski I already owned a 5 X 7 pass that covers 5 days a week and 7 nights a week and would not have purchased the expensive holiday priced day pass. There was tomorrow though, we could still ski tomorrow.
So at approximately 9:24am the fire fighters are seen here packing their hoses back into the truck. At 9:30 am the three nice looking gentlemen in yellow caught me taking pics and gave me a smile. A couple of the trucks had already left, as seen in the back ground. The events of the day were done, but what was to come the next morning for check out was the worst example of customer service I've ever seen.
Sunday Morning Checkout
Well no fire today! We rose up early and started to pack up all our gear. The plan was to put it in the car, park the car somewhere and ski for the day still. We would at least enjoy Sunday skiing and Sunday evening before heading back to a job in London, ON on Sunday night. We woke nice and early, showered and started packing up. We had all our gear together and went to get a cart and the elevator. Oh my gosh..... The one elevator wasn't working still. We enquired and the staff at the Weider Lodge told us their contracted elevator company didn't work on weekends. We said, you mean it costs overtime on weekends. They said "Well Yes". So there was how ever many hundred guests trying to remove ski gear with only one elevator working. We called the front desk and asked that they give us a late check out as it did not appear we would be able to get our gear out with this slow elevator by 10am but we kept our eyes peeled on the hall for when the line up was going down. At 10am (almost on the button), house keeping knocked on my door and told me I had to be out. I explained but the girl did not speak english and said "I must clean your room, check out time is 10 am. I phoned the front desk again and they sent someone to deal with her.
About 30 minutes later we were able to get a spot on the elevator and proceed to clear our bill and check out. We requested compensation for the lost ski day, due to the fire and the staff said the fire was beyond their control and their would be no compensation. I explained I felt the time spent outside was excessive and in their control and the elevator problem was well within their control, but they choose to take our $713.80 for two nights, not let us ski, burden us with one slow elevator as the company was too expensive on a busy holiday weekend to call for special Saturday service, and still charge us full price. I was admittedly, very very upset and refused to leave until we could speak to a manager, that they had refused to get us. Finally a manager, Bruce, came out to deal with us when I got quite loud, along with a couple other very upset guests and the place was packed with people in line checking out and in. This was around 11am on Sunday January 6, 2009. Bruce informed us he could take nothing off our current bill but promised to send out a free weekend for a future date. Getting no where and wanting to be out of there we gave him our address and driver's licenses on that promise, paid our full bill, linked here at $713.80 and were on our way.
Guess what? Bruce never came good on his promise. Numerous times last year Blue Mountain sent emails asking why I hadn't purchased a pass and offering specials. Well I sent them back but it was to a no reply address. I tried to tell them on the phone when I called them a couple times but got no where. This is what I said,. "I would not purchase a pass as my husband was so angry at the Weider Lodge he would not purchase from Intrawest. Though my mom and dad live in Collingwood now, he will not go there to ski." I also informed them that he had booked a trip to Vail, Co, rather then Panorama to avoid the intrawest service. He also would not go and ski at Snowshoe Resort, WV, even though we live in SC now and it would be the closest large resort near us, at 5 hours away. He will fly somewhere or ski here at Sugar Mountain, until Bruce or Intrawest, came good on their word. He was VERY upset he had been lied to and even when followed up in March with Bruce, had been told it would be coming to the address left.
Needless to say it never arrived, we waited all of 2008/2009 ski season and in spite of contacting Blue Mountain with the issue, nothing was ever done. It was obvious they were a very busy large resort (not like the one I went to in 1985 at $29.99 a season for a night pass with two runs, Big Baby and O-hill). They had not time for our little complaint, they were big, they have the snow, they have the amenities and we were foolish not to enjoy their resort. Well I guess I will again, have no pass for Blue Mountain Collingwood and plan a ski trip to a non intrawest resort.
Thank you for the memories Blue Mountain. Sorry you have become the cold, uncaring large resort you have become. The nice family resort that cared about everyone on the hill was a wonderful spot to be.
Past Features Below
What do you think? Email and I'll post it.
Update: August 2020 - Crazy covid world. I think I mostly guessed right back in March.
Features and Headlines:
August 21, 2020- Photos are up but articles and details still to come - Hunting Island, St. Phillips Island and Hilton Head Island photos are up now, articles with details to come, check next week.
August 12, 2020- State Parks a safe diversion from Covid 19. - Wonderful time for quiet hikes in State parks and taking photos.
March 4, 2020 - Covid-19 fears; Are we a sitting duck waiting for it to happen in a global Canadian resort? - Dealing with possibilities.
Recent Photos:
Hilton Head and St. Phillips Island - Another Coastal Expeditions tour from Hunting Island to St. Phillips, purchased by Hunting Island State Park and be preserved along with a few Hilton Head Island photos. Check for details in the News.
Hungting Island Dolphin Tour - Wonderful tour with Coastal Expeditions and walk about the state park.
Windsor Waterfront Trail - Pictures from the parks along the trail.
Entertainment:
Movie Reviews - Three Stooges, The Girl with the Dragon Tattoo
Book Reviews - The Girl with the Dragon Tattoo, The Girl Who Played With Fire
September 25, 2019 - Cycling at Anne Springs Close Greenway - Review of the trail system in the news.
2017 Eclipse at 99% - My take on the eclipse at 99.2% magnitude. Under whelming but photos and story in the news.
Festival of Lights - Niagara Falls is waiting, November 19, 2016 to January 31, 2017.
Windsor Waterfront Trail ride - See what fun you can find in Windsor, Ontario, right outside the Casino.
The Henry Ford Review - The Henry Ford - A must visit, for more than a day.
The 2014 C7 reveal - October 2017 Two Years Ago - City Chevy - Unveiling Rick Hendrick's Second Charity Corvette C7 2014 Vin # 2
Sugar Mountain put in the Chondola 2015- My last article on Digital Journal
Charlotte Motor Speedway - Fall auto fair 2015 on Digital Journal
Thin Blue Line 2013 - Re-posted from my article at Digital Journal.
Carnival Cruise Western Caribbean 2012 - Full detailed write up of this cruise on the Legend out of Tampa, FL.
December 2012 - A visit to the Georgia Aquarium - Amazing what you can see and do at the aquarium.
Vancouver Island Favorites - Check out Vancouver Island parks and trails in the News, then go find the ones I haven't.
Aviation News- Museums and Air show, August must be Aviation month!
Summer Vacation 2012- Lets all go to the races!
Summer Vacation 2012 Photos - The kids, grand kids, races, and Lion Safari (what I could fit in 50 photos).
Cruising with Mom and Dad- Port Canaveral to Bahamas, a nice diversion.
Photos Cruise 2012 - Bahamas Cruise, 2012 with mom and dad
Vail and Denver, March 2012- Nothing like Colorado, Vail and Denver.
Whistler, Victoria, Blaine, 2011 - Don't miss this write up and the beautiful photos! Everyone should do this for Thanksgiving.
Miami and Bahamas, December 2011 - A fun 4 day cruise and a night in Miami, what fun.
October 2011 - A recap of October in photos, no big news update until next month, then look for Victoria, BC information and a mini Bahamas cruise.
Fall Fun - A Fall Hike and Fall Fairs
Winthrop Lakeview Disc Golf Course- An overview of the course.
Winthrop Lakeview Disc Golf Course - An album of the course, may add more photos later.
Summer 2011- Weddings, Disney, parks etc. All the fun in the news.
Midland First Annual Ace Race- Who won, how did it play, when's the next? Come read the details.
Midland Ace Race- Link for next years updates.
Mississippi - Tupelo, Memphis, Elvis Presley, Beale Street, Tunica, - Just fun, check it out.
Mississippi Photos- Beale St., Memphis, Graceland, Elvis Presley Park, Tupelo.
Tunica Photos- Tunica Riverpark airboat ride, and the evil Sam's Town employee.
Chattanooga -- Great Food, Waterfront Festivals and Fun - A fun place to visit.
Chattanooga, TN- A few water front photos in Chattanooga.
New Orleans and Biloxi Bound. - First Long weekend of the season, getaway. News and photos.
New Orleans and Biloxi Photos- Sites around New Orleans and Biloxi.
Fun at Maxton, NC - Land Speed Trials - ECTA - Details from the May 2011 meet.
Maxton Photos on Flicker - Find yourself or car from Maxton, NC, May ECTA meet up. Email for prints or high quality digitals.
Pink Slips Women's Car Club Photo Shoots - Car buffs check this story and VOTE for Sally...
Pink Slips LMC Photo Album- Photos from the day at Legendary Motorcar Company
Riverbanks Zoo Photos - An afternoon at the zoo.
Summit County, CO. - Quick update, on the Summit county Bears gathering..
Castle Mountain Photo Album - Lots of ski, scenery and friend shots. Find yourself.
Castle Mountain Winter - Friends, fun and work. - All the details, slide show and photo album.
Warning, HHGregg Return? - Read and be wary; features update.
Houston and Area - Houston, Galveston and the Gulf coast, what to do with 4 days in the area.
October in the Carolinas - Myrtle Beach new, Fort Fisher Ferry fun, York Fall Festival.-------Slide Show here too.
Fall Colours- Blue Ridge Parkway fall colours on Flicker
Victoria, Whistler, Whale Watching, - Finally added the details on a terrific spring vacation to go with the photo album I uploaded in the spring.
Port Dover, Friday 13th Ride In - Photos of the Port Dover Ride in.
Victoria, Whale Watching, Whistler - Complete pictures from my whale watching excursion in Victoria, BC, and the rest.
7 Days 4 Resorts, Utah, Big Mountain Fun - Salt Lake city Utah, a great place for skiers. Check it out.
It's Better in the Bahamas - 4 day, 3 night mini cruise to the Bahamas; get all the details.
A Wedding! November 7, 2009, Leonard and Jenny Parker - The big day.
What about the Norfolk Area-Favorite places to eat in Virginia Beach, Chesapeake area and what to see.
Atlantic City, Long Weekend -Why we keep going back. Where to eat, sleep and play
Washington with Grant and Donna -Great time. So awesome to meet up with old friends, and Shelby, you're not 2 any more!
4 Days in New Orleans - What a great get away. We escaped for 4 days and 3 nights to New Orleans.
Atlantic City Weekend -Caesar's invited me for the weekend, free flight for two, free rooms and most meals free. Well it's never really free, but it was nice.
March Break, 2009 - Katrina and the family come to Myrtle Beach.
Wintergreen, VA , Closing Day, 2009 - A day at Wintergreen Ski hill, and we thought ski season was over.
Summer 2007, wow - Catch all the up to date news on who did what, and the latest pics.
New York City New Year - Happy New Year 2007!
Wow Vegas, A Modern Wonder -What a birthday.
Richmond & Portsmouth, VA - What a weekend it turned out to be.
Len and Jo-anne Graduate- Definitely the highlight of my year was these two making it to graduation!
S.N.A.R.T. Group of Racers -Fun weekend, details in the news.
Natalie and Jay at Disney - A surprise visit to Florida for my niece and nephew, details here.
Holiday July 2005 - Rockford and Chicago highlights from 2005,click to go right to the story.
Skiing In North Carolina - Yes, there really is skiing here! See pictures, links to hill sites and more. Click to read.
Cruising the Caribbean - Nice cruise pictures and details.
Fit and Forty - How I did it!